Report a noxious weed
in King County, Washington
This is where you can report noxious weeds that occur in King County, Washington. If the weed is on the list of state regulated noxious weeds for King County, we will visit the site and follow up with the property owner or agency responsible for the area. We will help make sure the weeds are controlled. Even for weeds that the state law does not require control, is it helpful for us to know where they are so we can understand the impacts they have in King County. To learn more about the Washington State Noxious Weed Law, see our web page on Lists and Laws.
Click on "Report-a-Weed" image to open form in a new window to report a noxious weed location in King County, Washington.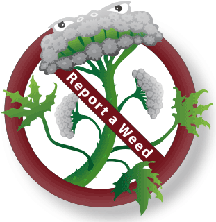 Download King County Connect to report noxious weeds on your phone.
If you have any questions, please contact our office by email at noxious.weeds@kingcounty.gov or by phone at 206-477-WEED (206-477-9333), or visit our home page for more resources.
Thank you for helping us locate noxious weeds.
Related information
Related agencies
---
Program offices are located at 201 S. Jackson St., Suite 600, Seattle, WA 98104. To contact staff, see the Noxious Weed Control Program Directory, send an email, or call 206-477-WEED (206-477-9333).