Knotweed control projects in King County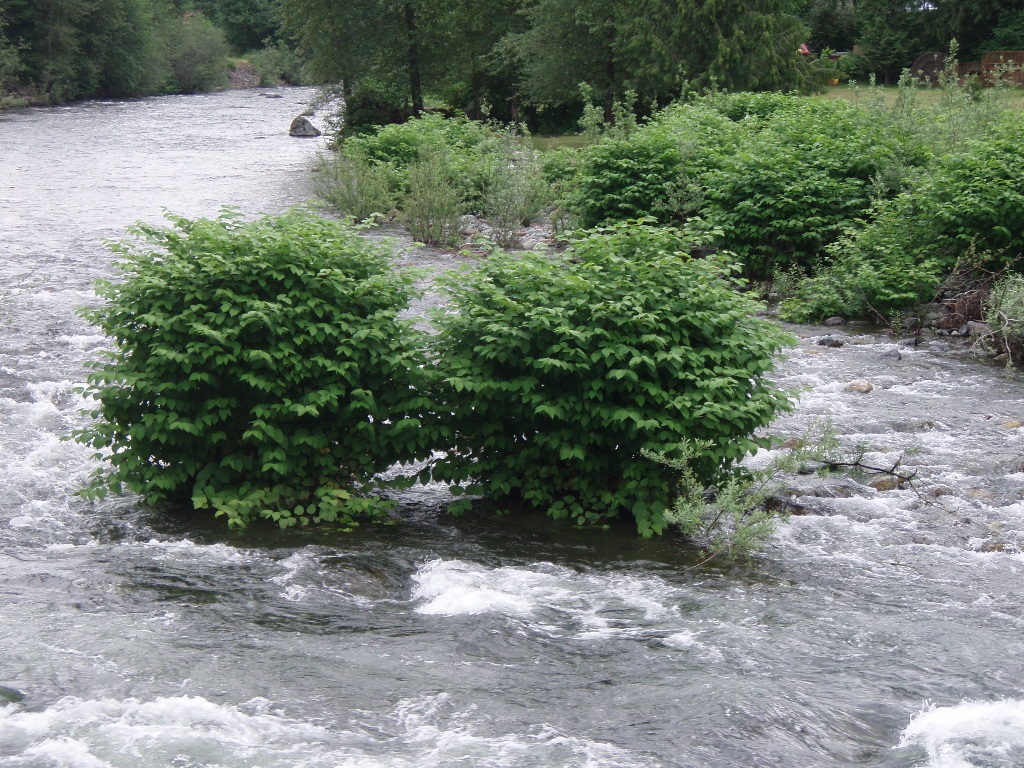 Invasive knotweed (Polygonum spp.) is an aggressive invader of riparian habitats that damages ecological integrity and causes property damage. Since 2004, the King County Noxious Weed Control Program has worked alongside many partners and property owners to reduce the impact of knotweed on rivers and adjacent flood plains in King County. This effort has been carried out through cooperative, public-private partnerships and through engaging and empowering private citizens and public agencies to participate in fighting back against this challenging and damaging invasive species. In addition to leading on-the-ground knotweed projects, we are working to build a regional forum of agencies, organizations and individuals to better tackle knotweed on a larger scale through resource sharing and coordination of efforts. See the Puget Sound Knotweed Forum website for shared resources and meeting information.
Current projects
Currently, the Noxious Weed Control Program carries out cooperative, comprehensive knotweed control projects on four river systems: Upper Snoqualmie (including the South Fork and Middle Fork, two small tributaries and the main stem above Snoqualmie Falls), Skykomish/Tye River (the portion in King County), Cedar River (in conjunction with Seattle Public Utilities and Forterra), and Middle and Upper Green River.
(download an overview map of the current knotweed projects)
Snoqualmie/Skykomish (WRIA 7)
Project methods
Our projects all follow a similar approach that is based on the biology and spread mechanisms of knotweed. We start at the highest known infestation and work downstream to treat and re-treat knotweed anywhere it occurs along the riparian zone. Often native vegetation will naturally return once the knotweed is removed, but if needed, we install appropriate native vegetation to restore the ecological functions of the river. By focusing on the upper watersheds, we are able to achieve the highest habitat benefits for the least amount of investment. Also, by controlling the upper reaches first, we protect our investment by preventing re-infestation from upstream populations.
We start by surveying the waterway to map the knotweed infestations and reaching out to each and every property owner in the target areas to request their participation. Properties directly adjacent to active flood zones receive first priority for grant funds, but we also encourage control beyond the immediate riparian corridor. We offer workshops and individual technical assistance to increase participation by landowners and other public agencies in this work. The program also loans out knotweed control equipment to landowners, public agencies and volunteers who are working on knotweed control in King County.
Sometimes our program takes the lead in carrying out the knotweed project work and othertimes we act as a partner to another lead organization. In all cases, the projects are public-private partnerships that rely on cooperation and coordination between all property owners, agencies and stakeholders connected to the project area. Successful knotweed control on a waterway depends on everyone working together.
Funding
Grant funding and other forms of support for these projects have come from many sources over the years including the following:
US Fish and Wildlife Service
King Conservation District
Environmental Protection Agency
National Fish and Wildlife Foundation
Washington State Department of Ecology
Washington State Department of Agriculture
Washington State Department of Natural Resources
In addition, the noxious weed program, project partners, landowners and volunteers have all provided significant in-kind contributions to each project.
Contact
For more information on knotweed control projects in King County, Washington, please contact the riparian project team or the noxious weed program manager Steve Burke.
Knotweed resources
Projects
Watershed information
Related information
Related agencies
---
Program offices are located at 201 S. Jackson St., Suite 600, Seattle, WA 98104. To contact staff, see the Noxious Weed Control Program Directory, send an email, or call 206-477-WEED (206-477-9333).