Miller and Walker Creeks Stewardship
We all can be good stewards of Miller and Walker Creeks! Whether you live right next to the streams or a mile away, your actions can help improve water quality and reduce stormwater in the creeks and beyond. Remember --
Stewardship Resources for Watershed Residents
Why Good Stewardship Matters
Whether you live near or far from Miller and Walker Creeks, good stewardship of our land and water carries multiple benefits:
Healthier home and yard for children and pets
Cleaner water in our streams and at Puget Sound beaches
Less flooding and erosion
Healthy urban forests and green spaces
Basin Steward Available to Help
Iris Kemp
is the basin steward. The basin steward can help you:
Volunteer to help plant trees and control invasive weeds
Improve your streamside property with natural yard care and use of native plants
Arrange a presentation for your school, community group, or faith community
Report fish sightings or non-emergency problems with the creeks
For more information, check out the Miller Walker Basin Stewardship Program Brochure!
Stewardship of the Miller/Walker Creeks basin is jointly funded by the City of Burien, City of Normandy Park, City of SeaTac, King County, and the Port of Seattle. On behalf of the partners, this page is proudly hosted by King County Department of Natural Resources and Parks - Water and Land Resources Division.
Sign up for Miller-Walker emails
News and announcements
January 1, 2023
Results from the 2022 Community Salmon Investigation are in! Join us 6-7:30pm Tuesday, January 17, 2023 at the Cove (1500 SW Shorebrook Dr, Normandy Park) to learn about coho and chum salmon in our local creeks.
Thank you for a great year in the Miller-Walker watershed! Click to read about our 2022 accomplishments.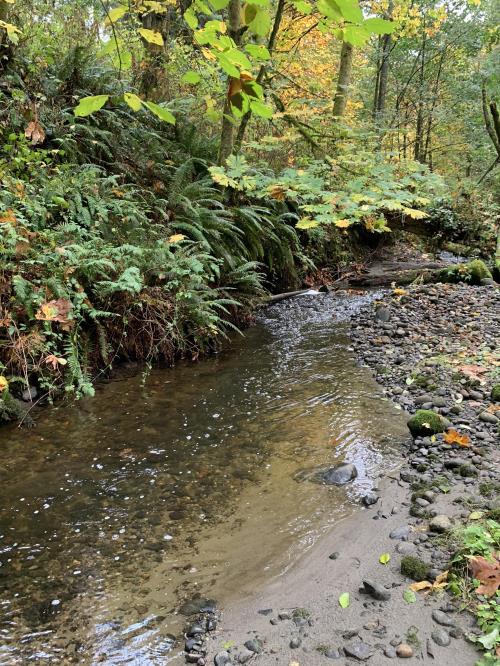 Miller-Walker Creek questions
Lake Burien questions
Sponsoring jurisdictions