Volunteer Calendar for Miller and Walker Creeks Stewardship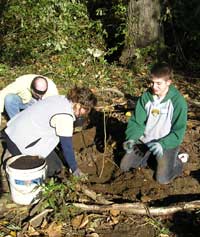 All volunteer events are cancelled until further notice due to COVID-19 concerns. We will reassess future volunteer events in response to relevant state and local government guidance as it evolves.

Ready to get dirty for a good cause? This page lists opportunities to help:
Plant native trees and shrubs
Pull out invasive non-native plants
Clean up litter
The volunteer projects listed below welcome people of all ages. Younger people may need to be accompanied by an adult -- check with the event organizers.
Unless otherwise noted, no experience is necessary -- you'll learn on the job!
By volunteering, you will be helping to make the Miller and Walker Creek basins better for the people, fish, and wildlife that share it.
What to Bring
Bring a filled water bottle. Please wear sturdy clothes that will protect you from the weather and thorny plants, and that you don't mind getting dirty! Gloves, tools, and light refreshments are provided.
Date and Time
Description
Location
Sign Up

Saturday
9:30 am - 12:30 pm
2020 Dates: May 15 (cancelled); Sept. 19; Nov. 14

Walker Preserve Forest Restoration
Remove ivy and other invasive plants, and plant native plants to restore habitat along Miller and Walker creeks. No experience needed, tools provided.



Walker Preserve Park in Normandy Park (

click for map

) (S 168th St & 2nd Ave S) - Meet at this intersection at the Walker Preserve sign, then walk through the gate, cross the creek, and go left down the trail.




Matt Goehring, Miller-Walker Basin Steward

(206) 263-6826

Saturday
9:30 am - 12:30 pm

2020 Dates: Apr. 25​ (cancelled); Jun. 20; Oct. 24

Miller Creek Forest Restoration
Rip out invasive weeds and plant native plants to make Miller Creek and its fish healthier! No experience needed, tools provided.

Burien - along the Miller Creek trail- from the intersection of S. 144th St. and S 144th Way, walk south along S 144th Way, and turn right onto the trail. We'll be on the right.

Matt Goehring, Miller-Walker Basin Steward

(206) 263-6826

2nd Saturdays
9 am - Noon

2020 Dates: Mar. - Oct.

Normandy Park Community Club - Stewards of the Cove
Work to preserve and Protect Miller and Walker Creeks where they meet the Sound. Work varies month to month and includes control of invasive plants and planting of native trees and shrubs.

Normandy Park Community Club,

1500 SW Shorebrook Dr, Normandy Park, WA

Merry Ann Peterson, Stewards of the Cove
Greater Highline Area Stewardship Opportunities
Want to volunteer to improve the environment elsewhere in Highline? Here are other great opportunities to help out in Burien and Normandy Park:
Stewardship of the Miller/Walker Creeks basin is jointly funded by the City of Burien, City of Normandy Park, City of SeaTac, King County, and the Port of Seattle. On behalf of the partners, this page is proudly hosted by King County Department of Natural Resources and Parks - Water and Land Resources Division.
Other volunteer opportunities:
Volunteer Calendar, Green/Duwamish and Central Puget Sound Watershed
Miller and Walker Basin Stewardship Sponsoring Jurisdictions
Sign up for Miller-Walker emails
Miller-Walker Creek Questions
Contact Matt Goehring with questions about Miller and Walker Creeks
Lake Burien Questions
Direct questions about Lake Burien, including toxic algae testing, to Chris Knutson