Knotweeds
Raging River at a glance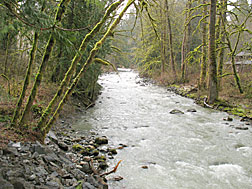 General
Located along the western edge of the Snoqualmie watershed, the raging River flows from the flanks of Tiger Mountain through Preston and empties into the Snoqualmie River at Fall City.
The basin covers about 32 square miles
12.1 miles long
About 74% is zoned for forestry
Lake Creek and Deep Creek and 5 major unnamed tributaries
Largely forestry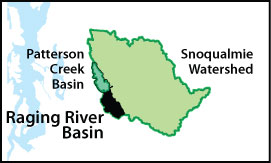 Water quality problems (Snoqualmie Water Quality Synthesis Report)
Frequently too warm
Not enough oxygen
Contaminated with fecal coliform
High temperature during the summer
Habitat
Core spawning areas for Snoqualmie chinook salmon. Also contains has steelhead and coho.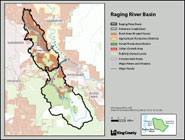 Community (external links)
Learn more about the Snoqualmie Watershed.