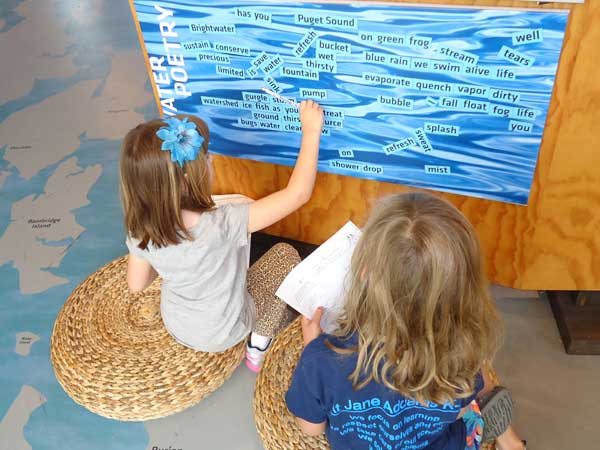 King County Wastewater offers a variety of public events throughout the year. Come join us and learn about our work, our facilities, and the importance of clean water!
Winter Art Extravaganza
Saturday, December 9, 2017
10 a.m – noon
Brightwater Center
Get creative with IslandWood during a fun morning of seasonal art projects at Brightwater! Why buy gifts for friends and family when you can make them?! We'll use recycled materials from around the house and natural objects from the forest to create beautiful winter decorations, holiday ornaments, table centerpieces, and other festive art. Bring your imagination and join our resident recycled artists as we fight off the cold with winter cheer and warm cider.
Community Treatment Plant Tour
Saturday, December 16, 2017
10 a.m. - noon
Brightwater Center
Come to Brightwater and find out how your wastewater gets cleaned! Tour the treatment plant, learn about our amazing water system, and what you can do every day to protect our water!
Participants must be at least 9 years old
.
Pre-registration is required via the King County Wastewater Education website
. Note: The registration page is used for a variety of groups and events. In the "appointment details" section, indicate that you are registering for a Saturday community tour.
Sustainable Landscape Class
Jumpstart Your Yard: Tips for designing a sustainable landscape
January 13, 2018
10 a.m. - noon
Brightwater Center
Thinking about transforming your yard this year? A well-planned landscape can do a lot for you, without requiring a lot in return. This introductory class will focus on effective yard design and give you examples of what not to do. Bring in photos or a map of your yard to get specific advice from the experts.
All participants will receive compost samples and discount coupons for the Snohomish Conservation District plant sale!
Register here: https://jumpstartyouryard2018.eventbrite.com
NGSS in Action: Taking Action With Your Students
Saturday, January 20, 9 a.m- 12 p.m
Brightwater Center
What if your students want to actually make a change in their neighborhood? Explore how engineering design can be applied by your students to make a difference in their community. Learn about some of the groups you might partner with and mini-grants that could help out. Discuss real world constraints and practical small-scale solutions and come up with a plan for how your students might carry their ideas into action. Register here.
IslandWood programs are typically designed for 3rd - 5th grade students but the content of this workshop is appropriate for any K-8 teacher. Clock hours available pending approval from the Puget Sound ESD.
Sustainable Landscape Class
The Foundation of Your Yard: The dirt on soil, compost, and mulch
Saturday, February 3, 2018
10 a.m. - noon
Brightwater Center
Healthy soil is the foundation of a successful landscape! Join a soil scientist for a hands-on demonstration to learn the components of soil and how to make it work better for your landscape. Have your soil tested prior to the class, or bring a soil sample with you to have it sent for analysis. If you bring test results, we will help you understand what they are saying about your soil. For information on soil testing visit:
http://www.betterground.org/dont-guess-soil-test/
All participants that attend this class will receive discount coupons for the Snohomish Conservation District plant sale, and be able to scoop compost to take home!
Register here:
https://foundationofyouryard2018.eventbrite.com
Sustainable Landscape Class
Plant Right for Your Site: Selecting plants for functionality, aesthetics and wildlife
Saturday, February 17, 2018
10 a.m. - noon
Brightwater Center
Did you know you can plant a landscape that has visual interest year round, provides a home for wildlife, AND minimizes water, fertilizer and pesticide use? This class will provide information on choosing the best plants for your needs, and techniques for planting, composting, and mulching that will help your landscape thrive.
All participants will receive free plant starts and compost!
Register here:
https://plantrightforyoursite2018.eventbrite.com
Sustainable Landscape Class
Watering Wisely: Tips on managing water to reduce water use and runoff
Saturday, March 3, 2018
10 a.m. - noon
Brightwater Center
Watering your landscape effectively can save you valuable time and money! You will have healthy plants and avoid paying for water that runs into the storm drain. Yard care specialists will provide advice for getting the most out of every drop. You'll learn about constructing rain gardens and installing rainwater catchment systems. To get you started, the Snohomish Conservation District will be selling rain barrels for $50.
Register here:
https://wateringwisely2018.eventbrite.com