Skip to main content
Children and Family Justice Center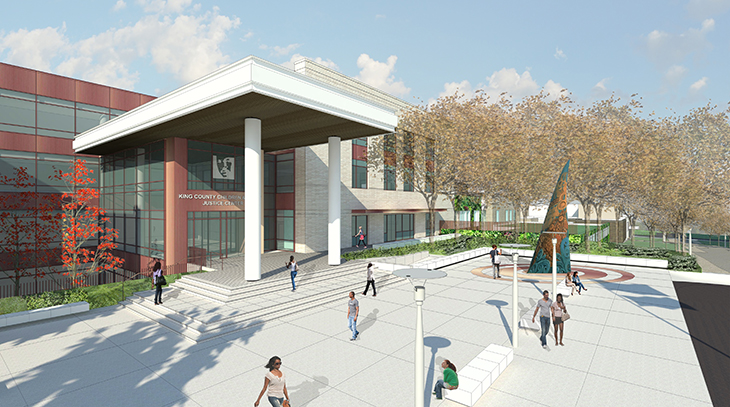 The voter-approved Children and Family Justice Center will replace the outdated Youth Services Center with a flexible and therapeutic facility that provides modern youth and family court services as well as a trauma-informed juvenile detention center.
Construction at 12th Avenue and Alder Street in Seattle's Central District will begin in 2016. The new center is scheduled to open in 2020.
The new center will include:
Free daycare for families visiting center
More space for youth and family programs
A resource center connecting youth and families with services in their communities
A flexible & therapeutic juvenile detention with 100 fewer beds
Conference room for community use
Eco-friendly design
Bike & pedestrian paths on Alder Street
Public open areas
Replacing the Youth Services Center
The current Youth Services Center's aging facilities, some of which date back to 1952, require increasingly costly maintenance. The facility has almost twice the number of detention beds needed today, while lacking any space for youth and family programs designed to prevent future court-involvement. After estimating the costs of a full renovation and a price tag of over $40 million just to replace the existing facility's core operating systems, the King County Executive, Superior Court and County Council decided that it was time to replace the center altogether. In 2012, King County voters agreed when they passed a $210 million levy for its replacement.
Supporting youth and families
King County is dedicated to best practices in child welfare cases, juvenile court proceedings and juvenile detention. The new facility will provide a respectful and supportive environment to link even more youth and families – court-involved or not – with services and non-profit organizations in their own communities.
King County has one of the lowest youth incarceration rates of any urban region in the United States. The County's youth detention population has declined more than 60 percent over the last decade with the help of growing alternatives to detention. Because reductions in the juvenile detention population here and across the nation have unfortunately been coupled with increased racial disproportionalities in detention, the County formed the Juvenile Justice Equity Steering Committee in summer of 2015. In partnership with community organizations, youth and school districts, King County is focused on becoming the first urban region in the country to see the juvenile detention population and the racial disparities within it shrink at the same time.