Earth Day 2023
Love, Protect, Restore
Join King County Department of Natural Resources and Parks as we celebrate the 53rd Anniversary of Earth Day!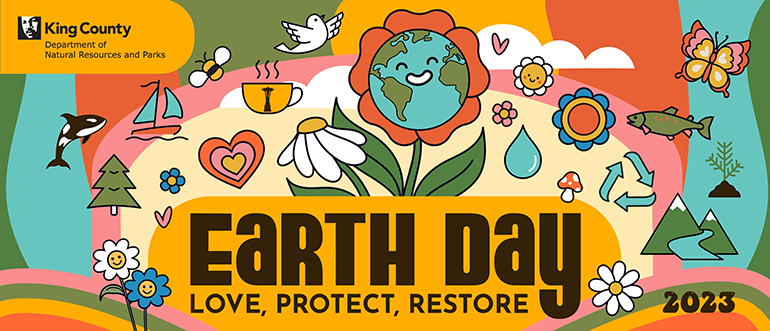 It's our favorite day of the year, a time to celebrate the work our employees perform year-round to protect and restore the places that make King County such a spectacular place to live. It's also an opportunity to show the types of personal actions we can all take – both big and small – to practice environmental stewardship for the people, salmon, wildlife, water, parks, trails, and natural lands of our region.
While Earth Day comes around only once a year, the small actions we each take to love, protect, and restore our natural environment add up. Join us April 17-22, as we spotlight Earth-friendly activities that can make a difference every day of the year. Explore volunteer events, show your love for the outdoors, reduce your waste, take public transportation, walk, run, roll, or bike on our regional trails, and more.
Let's keep working together each day to love, protect, and restore the natural environment that connects us all.