Who collects my garbage?
Learn which garbage hauler handles waste collection in your area. Find a facility near you to take extra waste.  
King County's service area
We ensure that garbage and recycling collection is available to 37 of the 39 cities in King County and unincorporated areas. Seattle provides its own services. Milton is part of Pierce County's system.
Curbside garbage collection
In King County, waste collection is carried out by private companies known as haulers. The cities of Enumclaw and Skykomish are the exception. They run their own collection systems.
Waste hauler by city or town
Use this drop-down menu to find the waste hauler in your area.
Setting out extra garbage
Make sure not to overfill your curbside garbage bin. Instead:
Put extra garbage in a tied plastic bag or 32-gallon, labeled "garbage" on collection day
Limit extras to 50 pounds
Check with your hauler on specific fees
Find a solid waste facility
We operate 10 solid waste facilities in King County where customers can dispose of extra waste. Learn about locations, hours, and accepted materials on our solid waste facilities page.
Solid waste in Seattle
The City of Seattle operates its own services and facilities. If you live or do business in Seattle, please refer to the Seattle Public Utilities website.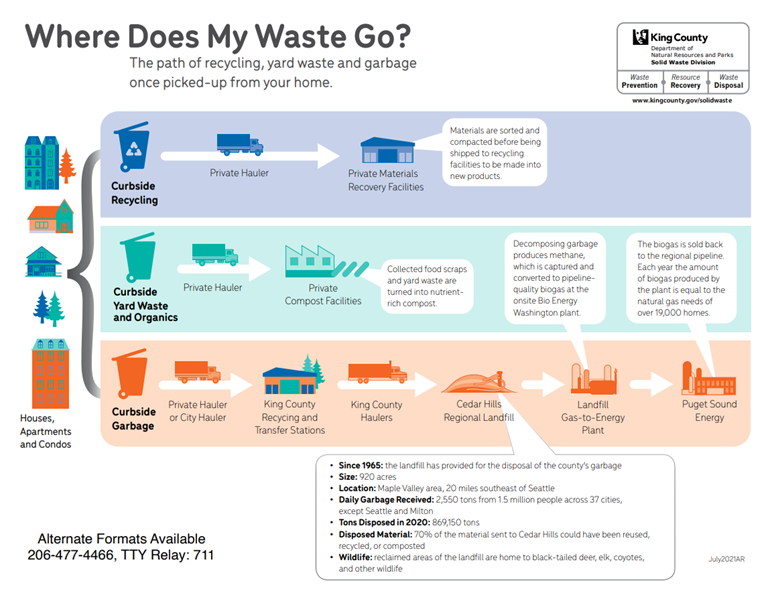 Where does my waste go?
Find out what happens to your garbage or recycling once it's collected with our waste infographic.