How to pay your bill
Instructions on how to pay your capacity charge bill online or by mail.
Frequently asked questions
Each year, King County Council reviews and sets the amount of the capacity charge. If there is an increase, it applies only to new connections made that year—Once your rate is set, that will be what you pay until your account is paid off.
Your credit card or bank account will be charged immediately upon payment, but it will not be applied to your capacity charge account for 1 to 2 business days.
You may cancel out of the payment process at any time before you have submitted your payment by clicking the "Cancel" button at the bottom of the form.

To prevent accidental cancellations, you will be directed to a page where you will be required to click a button indicating that you wish to confirm the cancellation request. Once you have confirmed that you wish to cancel, all the data you have entered will be discarded and you will be taken to the capacity charge payment homepage.
At any time during the 15-year duration of the charge, you may pay the remaining balance in one lump sum at a discount. For questions about the discounted payoff amount, please call us at 206-296-1450 or email CapChargeEscrow@kingcounty.gov.
Your capacity charge bill
King County will send you a capacity charge bill about three months after your local sewer utility reports your property's new sewer connection. After that, we will send you a bill every three months for 15 years, or until the balance of the property's account is paid.
Your bill will look like this: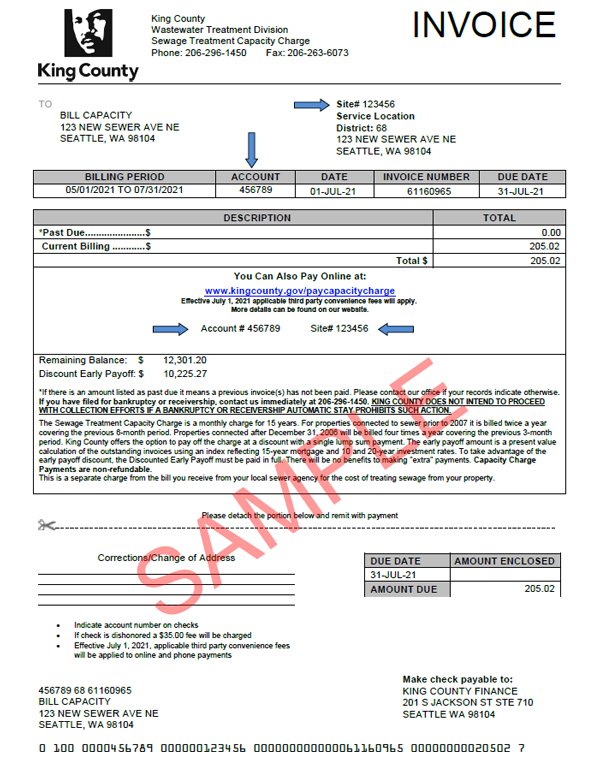 ---
Pay online
You can pay online with a credit card or e-check. You will need:
Your

account number

from your invoice.
The

6 or 7-digit site number

on your invoice.

Please note: The payment system is unavailable due to scheduled maintenance every 3rd Sunday from 6:00 a.m to 11:30 a.m. PST and every 3rd and 4th Thursday of the month from 5:00 p.m. to 7 p.m. PST.
E-Checks
E-checks are an electronic version of a paper check. When you make your online payment, you tell the bank to electronically withdraw funds from your checking or savings account for the amount of your payment.
King County accepts both personal checks and business checks to pay your capacity charge.
In order to create an e-check, you will be asked for specific numbers that appear at the bottom of your paper check.
The Routing Transit Number (RTN) is the 9-digit number that identifies your bank. It is the first group of numbers at the bottom of your check.
The Account Number appears as the second group of numbers to the right of the RTN.

Do not include the check number, which is the third group of numbers located to the right of the Account Number.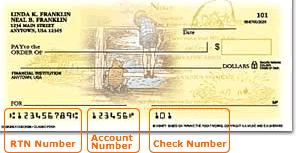 Note: If you enter the wrong account number and your electronic check does not pay from your bank account, you will be charged a non-sufficient funds (NSF) charge and any other late charges that apply.
Online services fees
Effective July 1, 2021, there will be service fees for paying online:
If you pay by credit card the fee will be 2.35% ($2.00 minimum)
If you pay by e-check there will be a $1.00 flat-fee
If you are a part of the Capacity Charge Low-Income Housing Program you will not be charged a service fee.
---
To pay by your bank's bill-payer service
If you use your bank's bill payer service, please note:
When setting up this service, the information provided should include the account number. This will ensure quick posting of your payment once it is received in our office.

Some banks will print out a check and then mail it to our office. In these instances, it may take time to receive the payment.

Send bill-pay payments to our mailing address at 201 S Jackson St. Suite 710, Seattle, WA, 98104.
---
Pay by mail
Write a check for the amount of your payment. Put the check and the lower part of your paper bill/invoice in the blue return envelope and mail it to us. Please use the proper postage.
If you don't have the return envelope, you can mail a check in a different envelope to:
King County Finance
201 S Jackson St, Ste 710
Seattle, WA 98104.
Please note: Payment by mail may take longer to reach us.
---
Need help paying your bill?
You may qualify for help. Please email: capchargeescrow@kingcounty.gov or call 206-296-1450.