Public archive of past versions of kingcounty.gov
We've designed a new King County website so you can more efficiently connect to County services – whether on a smartphone, tablet, laptop or desktop.
We improved the navigation and updated the search engine so you can find what you need with as few clicks as possible. In early user testing, people have been able to find what they want an average of 80% faster.
Social media is integrated throughout.
This new design is flexible so we can continuously update our web pages based on your feedback.

At this time, not all our pages are mobile responsive. We are very aware of the increasing use of mobile devices in daily life and are working toward a fully responsive website.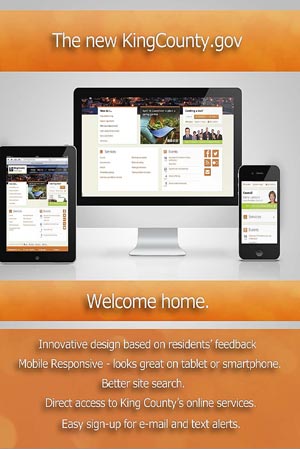 How was the "How Do I…" menu developed?


We analyzed data to understand the top tasks of our visitors, so you can find the information you want faster. These top tasks were then associated with goals in our King County Strategic Plan, and further ranked in priority of high, medium and low. We strived to 'plain talk' the links to make them easy to understand.
How many people visit the King County website?
Kingcounty.gov was visited by 14 million users in 2012, representing 32 million page views.
What are the benefits from our redesign?
Our goal was to make to our website easier to use, and more visually enjoyable, by providing:


Easier navigation
Direct access to King County's online services
Clear and updated content
Designs based on real users feedback
Easier reading on new generations of mobile devices
Accessibility and compliance with Section 508 disability guidelines
Better site search
Easy access to e-mail and text alerts
Why is social media so prominent?
Social media has grown to become an important tool for communication and interaction outside the boundaries of websites, which is why we encourage you to connect with us on your favorite social media platform.

Why redesign?
Kingcounty.gov is a large site with high web traffic, and needed to be updated to more efficiently connect users to county information. In addition, increased use of mobile devices made it necessary for the site to be redesigned for "responsiveness" on all devices.
In 2010 the King County Council formally recognized the need for redesign of the county's Internet site, and recommended a complete redesign to make it more focused on residents' access to our services. This change is in line with federal and government guidelines on redesign.
What is a "User Centered Design Approach"?
From the start it was critical to the success of the website redesign to serve the needs of the people in our region. We did not want our website structure to follow an inside-out perspective (what we want to tell people), but rather from an outside-in perspective (what people want to find on our website). Our goal was to design a usable website that engages site visitors, so we hired a local consulting company expert in User Centered Design Methodology to help define our approach.
The project team started with a baseline usability test to gather user feedback on the old website. As the team was progressing on re-designing the website, we conducted several usability studies to help our designers understand the reality of their assumptions and the users' behavior with real life testing of real users.
What's next?
We will continue to improve. The website menus will be updated:
If data shows changes in demand for information;
If King County adds or adjusts available services; and
If analytics show changes in content usage patterns (such as traffic going up or down).
King County will monitor analytics, top content, and tasks. Your feedback will also be analyzed regularly.
We hope you enjoy the new KingCounty.gov.