Flood Warning System
How you can receive alerts about rising floodwaters on major rivers in King County so you can prepare before serious flooding occurs.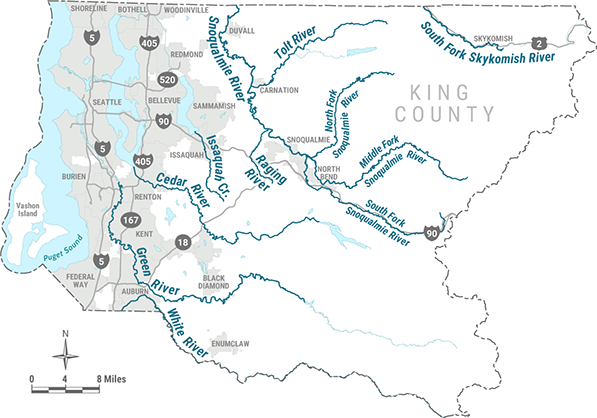 The purpose of the King County Flood Warning System is to warn you about rising floodwaters on major rivers so you can prepare yourself before serious flooding occurs. In most places, the warning system provides at least two hours lead time before floodwaters reach damaging levels. Sign up for e-mail or phone flood alerts or download the phone app to get advance notice of flooding in your area.
You can also use our How to Prepare for a Flood webpage to create an emergency plan for your household. Work with your neighbors and community to create a plan to help each other during flooding and other natural disasters.
If you sign up for email and phone alerts, please be aware that King County has contracted with the vendor Konexus for message delivery. E-mail and text messages will come from the address msg@mail1.alertsense.com – you may need to add this address to your "allowed sender" list or adjust spam-blockers to receive the alerts. Phone messages will come from the phone number 206-296-8200.
Download our Flood Warning app
Our Flood Warning app is available for download on the Google Play and Apple App stores.


The app shows:
Data for Skykomish, Snoqualmie, Tolt, Raging, Cedar, Green and White rivers, and Issaquah Creek.
Current river flows, flood stage data, and forecasts.
Hydrographs to see several days of river data and forecasts.
U.S. Geological Survey and National Weather Service and Northwest River Forecast Center updates about every 10 minutes.
The app was developed by King County and is funded by the King County Flood Control District.
Flood alert phases
Flood alerts can help you decide what actions to take to protect your safety, your family's safety, and reduce property damages and economic impacts associated with flooding. During high water conditions, King County activates its Flood Warning Center, which uses a four-phase warning system. Sign up for flood alerts to receive warnings for flooding phases 2, 3, and 4. Phase 1 is an alert for King County staff and is not sent to the public.
Flood phases indicate the severity of flooding and guide King County's response. The thresholds for each phase are based on river gages which measure flow and depth of the river. Flood phases are issued independently for six major rivers.
Phase 1: County personnel are on alert, and preparations are made to open the Flood Warning Center. No warning is sent to the public for Phase 1.
Phase 2: Minor flooding in some areas. The Flood Warning Center is open. Staff at the Center monitor river gages and flood conditions around the clock and are available to take calls from the public. A Flood Alert is sent to people signed up for Phase 2 warnings.
Phase 3: Moderate flooding in some areas. Investigation crews are sent out to monitor flood control facilities (such as levees). A Flood Alert is sent to people signed up for Phase 3 warnings.
Phase 4: Major flooding in some areas. A Flood Alert is sent to people signed up for Phase 4 warnings. This is the most severe flooding phase. If you receive a Phase 4 Flood Alert, you should take action immediately to protect yourself and your family from flooding.
Other emergency alerting / notification / warning systems
You may be able to subscribe to multiple emergency alert providers depending on where you live. More warnings can give you more time to prepare for emergency situations, so take advantage of as many as you can. We recommend the following alert systems:
National Weather Service - NOAA Weather Radio System
Washington State Department of Transportation: Twitter
King County: ALERT King County
Check with your local jurisdiction for emergency alerts. Sign up to receive alerts by all methods possible: phone call, text message, and e-mail. If you have multiple phones or email addresses, consider signing up for alerts with all of them.