About East King County Youth Traffic Court
! NOTICE OF EMERGENCY CHANGES TO COURT OPERATIONS!
King County District Court operations are substantially curtailed to help keep the public and our employees safe during the COVID-19 pandemic. Please visit COVID-19 Impacts to King County District Court to learn how these changes affect you, or call (206) 205-9200.
Please do not come into any King County District Court courthouse if you are sick or experiencing flu-like symptoms such as a cough, fever or other respiratory problem.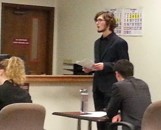 East King County Youth Traffic Court was co-founded in 2018 by Bear Creek Student Bouke Spoelstra and Downtown School Student Farah Lindsey-Almadani in partnership with King County District Court and the prosecutors of Bellevue, Duvall, Redmond and Sammamish. Youth Court works to empower local youth by adjudicating real cases of traffic citations issued to their peers.
Meeting several times per month, East King County Youth Traffic Court is presided over by a youth "judge," witnessed by an all-youth "jury," with presentations by youth "attorneys." For more information on the youth court concept, visit the National Association of Youth Courts.

Mission
East King County Youth Traffic Court is run by our youth, for our youth. Its mission is to provide first-time traffic offenders on the Eastside with an alternative to adult traffic court and give them an opportunity to restore justice to the community through service.
At the same time, we develop high school students into problem-solvers and leaders of their community as they learn how to determine an appropriate disposition for respondents. They gain real courtroom experience and work with professionals in the judicial field to learn more about law.
Leaders
Judge Jill Klinge

King County District Court

Judge Michael Finkle

King County District Court