Community Engagement
Request a speaker? Attend court event? This is the place to start.
Connect with the community
We recognize that the court can be mysterious and black robes can be intimidating. We want to break down those barriers through our Court and Communities group.
We connect with our communities through presentations, in-person visits, and events which we host and attend. We talk to youth, civic groups, and legal organizations.
We pick the topic or you pick the topic. Our goal is to improve the two-way conversation. We have as much to learn from you as you do from us.
Some previous topics have included:
Juvenile Justice
Legal help for litigants with no attorney or limited English
Bail reform
How to court works and how it is funded
To arrange for a speaker, please contact our Communications Manager, amy.roe@kingcounty.gov by email or phone at 206.477-0127.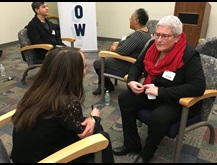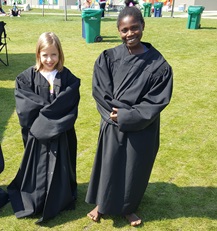 Judge Michael Scott talks to 4th graders about the Bill of Rights on Constitution Day
Judge Johanna Bender listens to questions at a media event
Judge Cathy Moore finds the future bench in White Center
2020 Events
January - Martin Luther King Day luncheon (Judge Keenan & Judge Moore)
February - Black History Month (Judge McCullough & Judge Phelps)
February/March - Mock Trial (Judge McHale)
May - Asian Pacific American Heritage month (Judge Chung)
June - LGBTQ Pride Month (Judge Bender & Judge Scott)
September - LatinX Heritage Month (Judge McCullough)
September - Constitution Day (Judge Moore & Judge Scott)
October - Disability Awareness Day (Judge Shaffer)
November - Native American Heritage Event (Judge McCullough, Judge McHale, Judge Rothrock)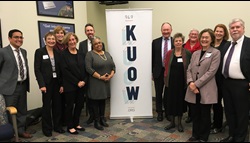 14 judges participate in KUOW's "Ask A.. Judge" event
Members of the bench host a LatinX event at El Centro de la Raza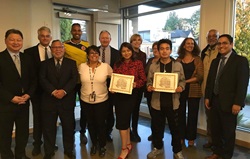 Four members of Franklin High School's stellar Mock Trial team