Maleng Regional Justice Center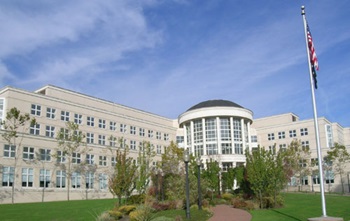 The Maleng Regional Justice Center is a full-service court facility serving south King County. It is located on Fourth Avenue North in downtown Kent near Kent Station, Kent Commons, and the Showare Center.
Street Address:
401 Fourth Avenue North
Kent, WA 98032

Mailing Address:
King County Superior Court
401 Fourth Avenue North, Room 2D
Kent, WA 98032

Days and Hours of Operation:
Monday-Friday, 8:30am-4:30pm
How to Get There: MAP
Download a Brochure describing where to go for specific court services in the Maleng Regional Justice Center.
Accommodations for people with disabilities
If you have a disability, you may request an accommodation by completing a Request for Reasonable Accommodation form. Instructions are included with the form.
The MRJC is a fully accessible facility. Courtrooms are equipped with wheelchair lifts for the bench and witness boxes, and jury boxes are wheelchair accessible. Designated parking stalls are reserved on the first and second floors of the parking garage.
Security Screening
You will pass through a security screening station as you enter the courthouse. Please take a moment to learn about the items prohibited from King County court facilities. Watch a video describing security screening at courthouse entryways.
Childcare - CLOSED at this time. Please check back for updates.
The Courthouse Drop-In Childcare Center serves children who are called to testify as victims or witnesses or whose parents or guardians have business in the court. It is located on the third floor of the Maleng Regional Justice Center and opens at 8:30am. For more information, visit the Childcare Center Webpage or call (253) 854-5625.
Food
A coffee bar is located near the first floor entrance to the Courts Building, and vending machines are available on the first floor and in the second floor jury assembly room. Many restaurants are close by.