Review of Road Services Division pavement preservation
July 15, 2014
It is vital that the Road Services Division (RSD) take strategic actions for using its greatly reduced pavement preservation resources cost effectively. RSD's recent road services plan introduces a number of new strategies to lessen impacts to road users and avoid costly road reconstruction; however, RSD's financial challenges will have unavoidable negative implications for the future condition of King County's road network. Other western Washington counties have applied innovative, cost-effective approaches to pavement preservation enabling them to keep their road networks in better condition while dealing with their own financial constraints. We make recommendations to leverage data and make decisions aimed at a more cost-effective preservation program with improved outcomes.
Status
Of the 7 prior recommendations:
| | | |
| --- | --- | --- |
| DONE | 7 | Recommendations have been fully implemented. Auditor will no longer monitor. |
| PROGRESS | 0 | Recommendations are in progress or partially implemented. Auditor will continue to monitor. |
| OPEN | 0 | Recommendations remain unresolved. Auditor will continue to monitor. |
| CLOSED | 0 | Recommendation is no longer applicable. Auditor will no longer monitor. |
Summary
This study reviews the Road Services Division (RSD) pavement preservation program, which is facing significant challenges related to a decline in road fund revenues. We assess RSD's adherence to its tiered maintenance strategy developed in mid-2011 to prioritize spending by road type and the long-term impacts of its pavement preservation approach. We discuss how RSD's Strategic Plan for Road Services 2014 Update guides the future use of resources for pavement preservation in the face of growing financial challenges. We evaluate the cost-effectiveness of RSD's pavement preservation program by comparing King County's performance to four other western Washington counties and identify strategies used by these counties for RSD to consider.
RSD's spending on pavement preservation has been in alignment with its tiered maintenance strategy since 2012. Funding constraints will have negative impacts to users and the condition of King County roads. RSD's Strategic Plan for Road Services 2014 Update identifies the need to change priorities as they manage risks of a declining road system due to current and forecast financial challenges. The plan update includes new strategies that could guide RSD's actions to more cost effectively use limited pavement preservation funds. Peer counties use a variety of tactics to achieve their pavement management goals despite road revenue constraints. We identify five strategies that contribute to peer success and may provide promising opportunities for King County as it makes changes to its pavement preservation program.
Strategic use of pavement seals
Continuous review and adjustment of treatment methods
Application of innovative technologies
Containing pavement management system spending
Establishing and monitoring of performance measures
We make four recommendations to strengthen data-driven decision-making at RSD and to improve RSD's pavement preservation program cost-effectiveness and outcomes as the division adapts to continuing financial challenges.
Reports related to this audit
Click on the image below to download the follow-up report.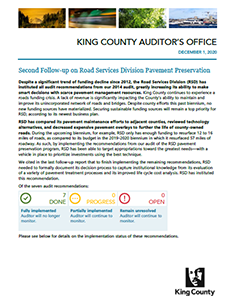 December 1, 2020
Download the report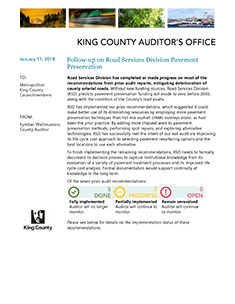 January 11, 2019
Download the report
Click on the image(s) below to view related reports.
Audit team
Brooke Leary, Chelsea Lei, Tina Rogers, and Tom Wood conducted this audit. If you have any questions or would like more information, please call the King County Auditor's Office at 206-477-1033 or contact us by email KCAO@kingcounty.gov.