Transit Manages Reliability Well, but Could Further Improve Customer Experience
February 12, 2019
King County Metro Transit has a high level of systemwide on-time performance despite increased traffic congestion. However, Transit's focus on addressing late arrivals may increase early departures. Buses that leave early appear the same to riders as cancellations, which are in fact uncommon. Gaps in the data Transit provides to third parties limits the utility of some of the most popular trip planning apps used by riders. Finally, it lacks key performance metrics necessary to manage small-scale capital projects designed to address speed and reliability issues. We make recommendations addressing these three areas.
Status
Of the five recommendations:
| | | |
| --- | --- | --- |
| DONE | 4 | Recommendations have been fully implemented. Auditor will no longer monitor. |
| PROGRESS | 1 | Recommendations are in progress or partially implemented. Auditor will continue to monitor. |
| OPEN | 0 | Recommendations remain unresolved. Auditor will continue to monitor. |
| CLOSED | 0 | Recommendation is no longer applicable. Auditor will no longer monitor. |
Summary
Reliability of bus service is one of the most important considerations for both transit agencies and riders. Between 2013 and 2017, Transit spent more than $10 million on schedule adjustments to make arrival times more reliable by adding more than 100,000 hours to bus trips. For riders, this means that buses are more likely to arrive as scheduled, but the trip itself will be longer than it was in the past. In King County, regional traffic problems have increased the variability of trip lengths, making schedules more difficult to predict.
Real-time data and small-scale capital projects are two minor but important ways to mitigate the impact of congestion. Transit's fleet is equipped with GPS systems that transmit real-time data, which Transit uses to plan trips and estimate bus arrival times. Transit also works with local jurisdictions to implement small capital projects, such as signal timing and bus priority lanes.
Transit is very close to meeting its on-time performance (OTP) goals, but an emphasis on reducing late arrivals may mean that buses often depart too early. This can negatively affect customers, since missing a scheduled bus because it arrived too early is effectively the same as a canceled bus. Compared to the number of early departures, canceled buses are rare.*
Although best practices suggest transit agencies should provide data to third-party developers rather than building in-house trip planning tools, Transit maintains a legacy online tool that duplicates the function of applications that are more widely used by riders. In addition, there can be gaps in the data that Transit provides to these third-party developers, which compromises riders' experience of transit reliability. As Transit continues to invest in a tool that may be of marginal value, it also limits third-party accessibility to data that could improve the rider experience.
Transit funds small-scale capital projects that can create faster and more reliable bus service. However, Transit does not capture key performance metrics on how the projects impact speed and reliability, nor does it set a target number of projects to complete each year. If these metrics were in place, Transit could better manage projects, demonstrate impact, and build buy-in with local governments to make the projects even more successful.
*Our findings are based on an analysis of speed and reliability data from October 2017 through September 2018.
We recommend that Transit warn riders about early departures, improve the quality of real-time data transmitted to third-party software developers, and establish performance metrics for its portfolio of small-scale speed and reliability projects.
Reports related to this audit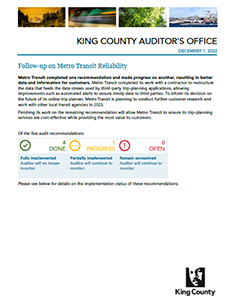 December 1, 2022
Download the report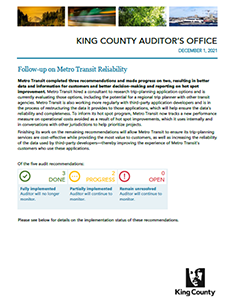 December 1, 2021
Download the report
Currently, there are no related reports to this project.
Audit team
Sean Deblieck, Peter Heineccius, Leigh Michael, and Ben Thompson conducted this audit. If you have any questions or would like more information, please call the King County Auditor's Office at 206-477-1033 or contact us by email KCAO@kingcounty.gov.