King County Eviction Prevention and Rent Assistance Program
Department of Community and Human Services
King County has created a new $41 million program to assist households economically impacted by the coronavirus.
Our region faces a looming eviction crisis of unprecedented scale. Tens of thousands of King County residents are at increased risk of eviction because of the ongoing pandemic and its effects which include illness, loss of income and unemployment.
King County is responding by rapidly deploying a new rent assistance and eviction prevention program in partnership with community organizations to help those who have been unable to meet rent obligations and are at risk for eviction.
King County is accepting interest forms from tenants, small landlords, large property landlords and managers, manufactured home park owners and managers, and local nonprofits who wish to participate in a new Eviction Prevention and Rent Assistance Program.
An overview PDF of EPRAP for tenants is available in 25+ languages:
Download PDF by language: Amharic, Arabic, Burmese, Chinese Simplified, Farsi, French, Hindi, Japanese, Khmer, Korean, Lao, Marshallese,Nepali, Oromo, Punjabi, Q'anjob'al, Russian, Samoan, Somali, Spanish, Swahili, Tagalog, Thai, Tigrinya, Ukrainian, Vietnamese
Public Comment

King County is committed to ensuring the community has an opportunity to provide comments and give feedback or suggestions regarding this new program.

The initial public comment period has ended.

All comments and feedback were reviewed. A Summary and a Frequently Asked Questions (FAQs) document was provided by email to all individuals who participated in the public comment. The FAQ is available at the bottom of this page.
---
Additional Resources
Inslee extends eviction moratorium
COVID-19 Eviction Moratorium Complaint Form
Executive Press Release 8-20-2020
View the Individual Program Details
Program Goals:
Prevent evictions

Target limited resources to people most likely to become homeless after eviction

Target limited resources to people most likely to suffer severe health consequences because of eviction

Promote equity in who is served, with a focus on equity for groups of people who historically have not been provided equitable access to rent assistance and those disproportionately impacted by the COVID-19 outbreak.
King County will use several approaches to quickly serve as many households as possible.
The rental assistance program will pay some large residential landlord properties and manufactured home parks in bulk payments for eligible tenants.
The program will also seek to distribute tenant rental assistance to smaller landlords whose eligible tenants qualify for assistance through a lottery process.
Funding will be prioritized for the highest-need individuals and zip codes in King County. High need zip codes are those in the top 20 percent of zip codes with:
Continued unemployment claims per capita
COVID-19 incidence rates
COVID-19 deaths per capita.
Learn More About Eligibility
Tenant Eligibility
Tenants must meet BOTH of the following eligibility requirements:
Income is at or below 50% of the Area Median Income over the past 60 days; and

At least one month of rent is not paid or partially unpaid since March 1, 2020.
In addition, tenants must meet ONE or more of the following requirements:
Rent-burdened: 50% or more of current monthly income is needed to pay rent.

Previously homeless within last five years; includes experiences of couch surfing/doubled up.

Eviction history within last seven years.

Housing disrupted due to household member race, ethnicity, gender identity, sexual orientation, or religion.

At risk of severe illness as per the Centers for Disease Control: 62 years old or older, underlying health condition.

Disability of any household member. Includes a physical, developmental, mental, or emotional impairment, including impairment caused by alcohol or drug abuse, post-traumatic stress disorder, or brain injury. A person with HIV/AIDS is considered disabled.
EPRAP eligibility is based on the following information:
Tenant Application
Landlord Rental Debt Certification
Tenant Income Documentation (if tenant does not have documentation, they can self-certify)
The King County Eviction Prevention and Rental Assistance Program DOES NOT require Social Security Numbers or Individual Taxpayer Identification Numbers from tenants.
For questions about immigration status or public charge federal policy, visit the Northwest Immigrant Rights Project.
Landlord Eligibility
As a condition of receiving funding, landlords must agree to:
Accept up to three months of rental assistance on behalf of the participating tenant at the lesser of either (a) 80 percent of the otherwise applicable total rent for three months; or (b) fair market rent for the three months.
Any rental debt owed by the tenant for more than three months must be forgiven. If rental debt is less than three months, assistance may be paid for past due and current rent up to three months not to extend beyond December 2020.
Not terminate or refuse to renew the participating tenant's tenancy absent good-cause until March 31, 2021.
Not raise rent on current tenant(s) served by this program until March 31, 2021.
Tenancies using Section 8 vouchers are exempted from the "no rent increases" conditions if the rent increase is based on an increase in the tenant's income.
King County received revised guidance from the state and federal government preventing us from paying future rent. The landlord conditions have been updated accordingly.
If a tenant is not eligible or the landlord does not accept the conditions, the household will not be served.
FUNDING IS NOT AVAILABLE TO HELP EVERY TENANT IN NEED.
TENANT ELIGIBILITY DOES NOT GUARANTEE ASSISTANCE WILL BE PROVIDED.
---
Process Overview for Tenants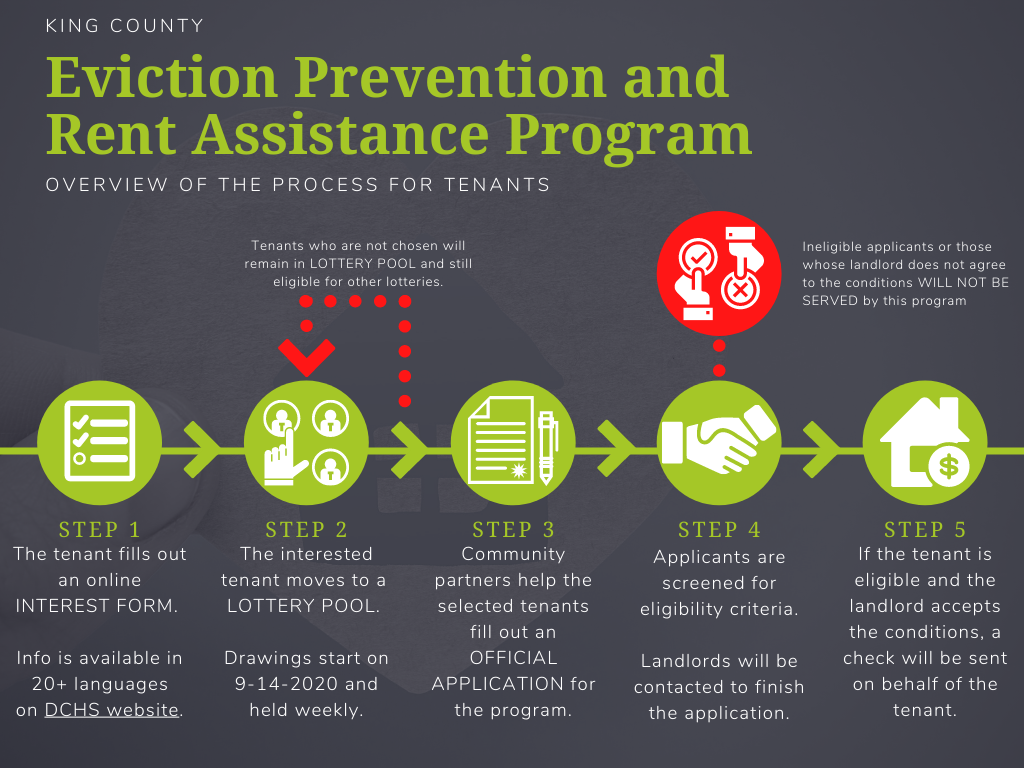 Download the PDF. This graphic shows an overview of the assistance program process, but please refer to the website and individual interest forms for details.
Additional Info and Updates

Starting in March 2020, households across our region and across the country will have the opportunity to participate in the 2020 Census. Your participation matters. Learn how you can promote a fair and accurate census at kingcounty.gov/census.