King County Eviction Prevention and Rental Assistance Program
Department of Community and Human Services
King County is starting the next round of the Eviction Prevention and Rental Assistance Program (EPRAP). The program helps people experiencing financial hardship due to COVID-19 who are at risk of housing instability or homelessness.
Tenants Needing Rental Assistance:
King County is scheduled to open our Tenant Pool on May 17, 2021, for individuals or households needing rental assistance. Please note, the open date is subject to change.
Subscribe to our email list to receive updates about EPRAP.
I'm Interested in Updates on EPRAP
What We're Doing
With $145 million in funding from the Federal Coronavirus Response and Relief Supplemental Appropriations Act (CRRSAA), this program will help King County residents by:
Paying past, current, and future rent
Targeting resources to people in need
EPRAP Data for 2020

DCHS is committed to community access of vital information about EPRAP. Accountability and transparency are important to us.

Visit the EPRAP Data page to see our dashboards.
---
Additional COVID-19 Resources
Tenants facing eviction: email Housing Justice Project
Other community resources: call 2-1-1
EPRAP Data for 2020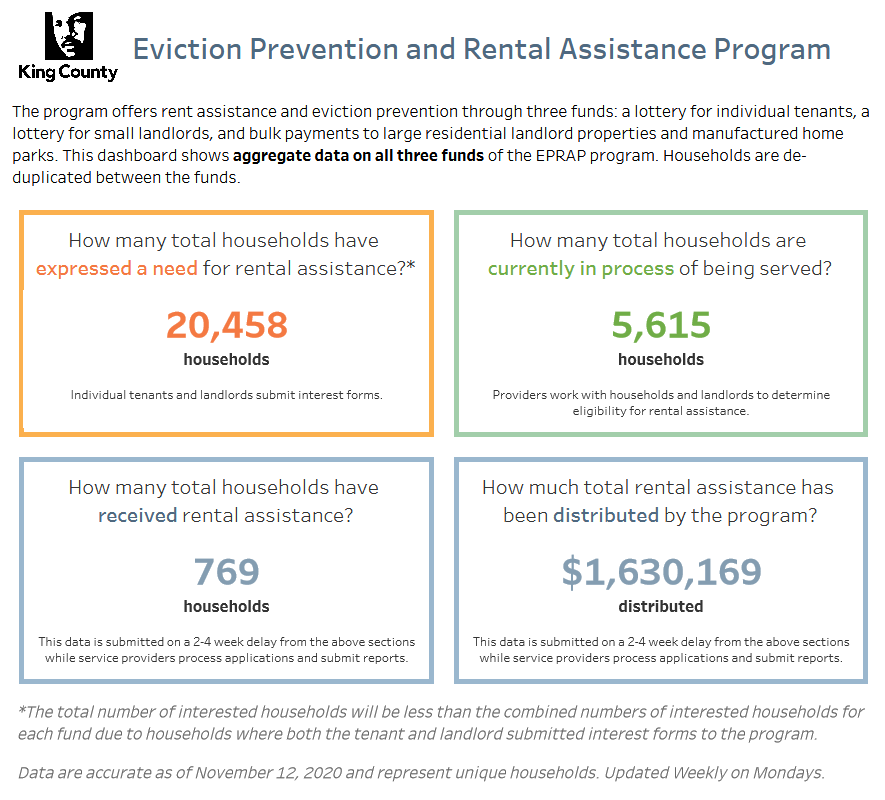 The 2020 program offered rental assistance and eviction prevention through three funds: a pool for individual tenants, a pool for small landlords, and bulk payments to large residential landlord properties and manufactured home parks.
Learn more about last year's EPRAP data.