Program Design and Funding
King County's Eviction Prevention and Rent Assistance Program is one of the ways the County is helping residents who are behind in rent and utility payments due to COVID-19 hardships. The program provides payments for back rent and even future rent obligations. Households throughout King County who have fallen behind in rent due to unemployment, lost wages, and health crises as a result of the COVID-19 pandemic can now apply for assistance.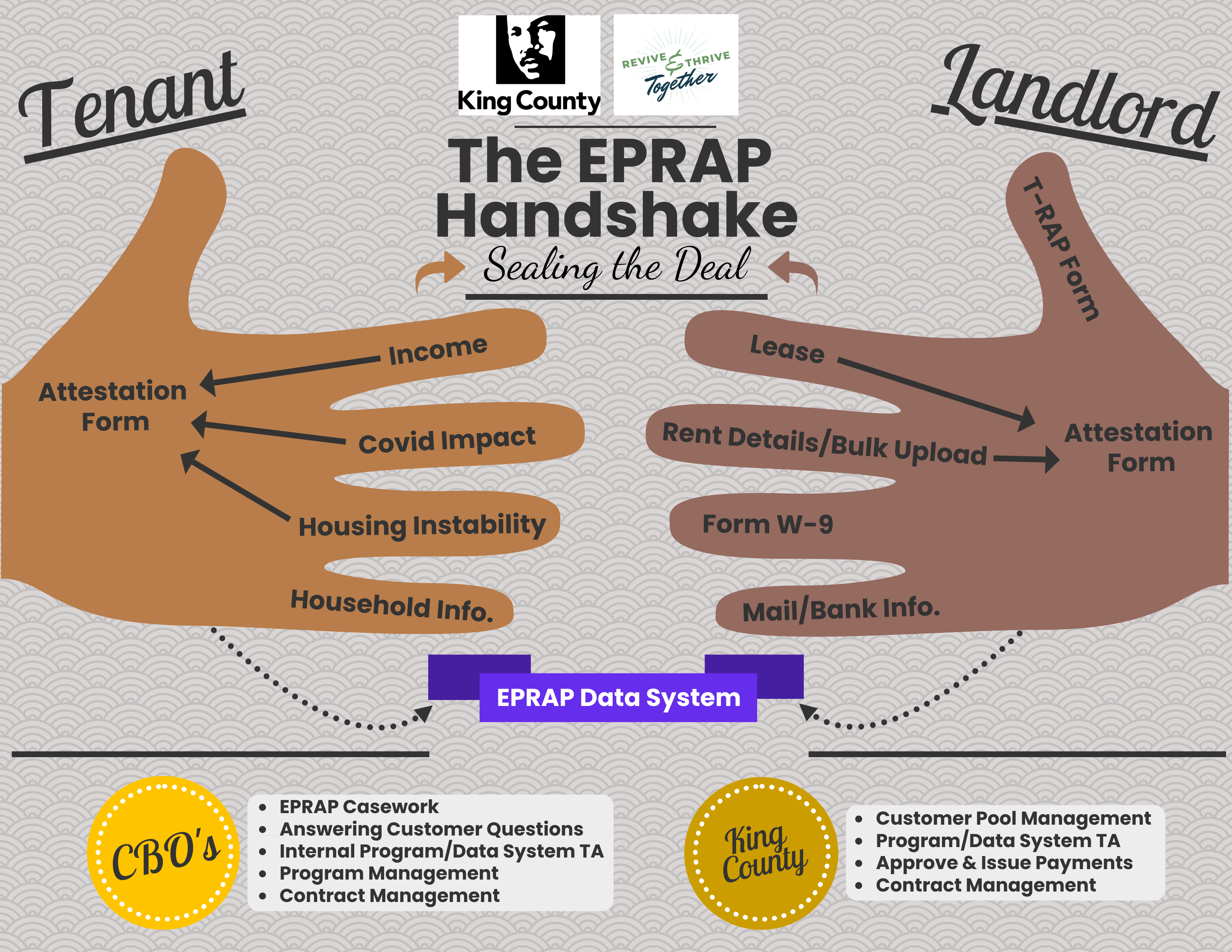 To ensure resources are distributed to those at the highest risk of eviction, four programs have been deployed that are designed to distribute rental assistance quickly, efficiently, and equitably.
1. Landlord Program
In April/May 2021, 314 large landlords representing 1,300 properties agreed early to be part of EPRAP and signed an agreement to not evict an EPRAP-enrolled tenant for non-payment of rent through December 2021.
Contracted agencies are assigned properties from the landlord pool and then they work directly with tenants to help them gather required documentation.
A Giving and Caring Heart
African Community Housing and Development
Multi-Service Center
Muslim Housing
Reclaiming Our Greatness
World Changers Non-Profit
United Way

Neighborhood House
ReWA
Solid Ground
Urban League
Wellspring
2. Tenant Pool Program
The Tenant Pool is a way for tenants to directly register to receive rental assistance through King County. Eligible tenants pre-register on the EPRAP Tenant Portal. Each week, King County randomly selects registered tenants from the tenant pool to participate in the program. The number selected varies based on service providers' capacity.
Contracted agencies are assigned households from the Tenant Pool and work with landlords to help them understand the EPRAP Landlord terms and conditions, and gather required documentation.
Arc of King County
Centro Cultural Mexicano
Riverton Park United Methodist Church
St. Stephen Housing Association
St. Vincent de Paul
Y Social Impact Center
YouthCare
Hearing, Speech and Deaf Center
3. Hub and Spoke Program
In the "Hub and Spoke" model, King County contracts with "hub" CBOs that then sub-contract with "spokes" CBOs to provide rental assistance services to the community.
The hub agencies can provide direct service while also distributing or allowing spokes to draw in tenants representative of their communities. This program allows eligible tenants to sign-up directly through the community organizations they're already connected to.
Contracted agencies work with both the tenant and the landlord to help them gather required documentation.
El Centro de la Raza (Hub)

Para Los Niños
Villa Comunitaria

Mary's Place (Hub)

Boys and Girls Club
Community Passageways
Eastside Legal Assistance Program

Open Doors for Multicultural Families (Hub)

Falis Community Services
4 C Coalition
Asian Council and Referral Service

Pacific Islander Community Association of WA (Hub)

First Chuukese Washington Women Association

YWCA (Hub)

Mother Africa
Africatown International

White Center Community Development Association (Hub)

Cham Refugees Community
Education for All

Praisealelujah (Hub)

Gold Soul Foundation
Generosity On the Go

Lutheran Community Services Northwest (Hub)

Refugee NW Resettlement Office
Korean Women's Association

West African Community Council (Hub)

Sengalese Association of Seattle
Congolese Integration Network

Chief Seattle Club (Hub)
Horn of Africa Services (Hub)
Jewish Family Services (Hub)
4. Outreach and Application Assistance Program
The Outreach and Application Assistance Program is designed to support the Landlord and Tenant Programs. Participants in this program are deployed to help gather required paperwork in the community by providing in-person outreach.
Contracted agencies provide extensive outreach to community members that support tenants and landlords identified by King County who need help applying for rent due to language, disability, or technical needs.
4 Tomorrow
Afghan Health Initiative
Centro Cultural Mexicano
Dispute Resolution Center – Seattle
Empower Next Generation
Generosity on the Go
Northwest Behavioral Guides
Port of Support
Praisealelujah
Reclaiming Our Greatness
Serve Ethiopians Washington
South East Youth and Family Services
St. Stephen Housing Association
The Dare2Be Project
UNITY Services
West African Community Council
This program targets direct services to underrepresented communities, focusing on serving properties based on the highest delinquency rates. The program prioritizes income-qualified households at or below 50% of Area Median Income and households that verify financial hardship directly or indirectly due to the COVID-19.
Tenant Pool Program
This program promotes equity by focusing on groups who face additional barriers to accessing rental assistance and those who the COVID-19 outbreak has disproportionately impacted. (Asian, Latinx or Hispanic, Black or African American, American Indian and Alaska Native, Native Hawaiian or other Pacific Islander, as well as youth and young adults.)
King County will draw tenants from the Tenant Pool weekly and assign them to agencies based on their weekly capacity, mission, and demographics. The Tenant Pool model promotes equitable allocation of resources to tenants in need of assistance.
Hub and Spoke Program
Non-profit organizations supporting the Hub and Spoke Program will help tenants with differing abilities and languages. There are agencies contracted to provide language support and reasonable accommodations to make sure tenants successfully apply for rental assistance.
Agencies supporting the Landlord Program will receive a direct allocation of rental assistance (25% of their contract) to serve their own clients or households reaching out directly to them for help.
4 C Coalition

4 Tomorrow

A Giving and Caring Heart

Afghan Health Initiative

African Community Housing and Development

Africatown International

Arc of King County

Asian Council and Referral Service

Boys and Girls Club

Centro Cultural Mexicano

Cham Refugees Community

Chief Seattle Club

Community Passageways

Congolese Integration Network

Dispute Resolution Center – Seattle

Eastside Legal Assistance Program

Education for All Foundation

El Centro de la Raza

Empower Next Generation

Falis Community Services

First Chuukese Washington Women Association

Generosity on the Go

Gold Soul Foundation

Hearing, Speech and Deaf Center

Horn of Africa Services

Jewish Family Services

Korean Women's Association

Lutheran Community Services Northwest

Mary's Place

Mother Africa

Multi-Service Center

Muslim Housing

Neighborhood House

Northwest Behavioral Guides

Open Doors for Multicultural Families

Pacific Islander Community Association of WA

Para Los Ni

ños

Port of Support

Praisealelujah

Reclaiming Our Greatness

Refugee NW Resettlement Office

ReWA

Riverton Park United Methodist Church

Sengalese Association of Seattle

Serve Ethiopians Washington

Solid Ground

South East Youth and Family Services

St. Stephen Housing Association

St. Vincent de Paul

The Dare2Be Project

United Way of King County

Urban League

UNITY Services

Villa Comunitaria

Wellspring

West African Community Council

White Center Community Development Association

World Changers Non-Profit

Y Social Impact Center

YouthCare

YWCA