Community Inclusion
Developmental Disabilities and Early Childhood Supports Division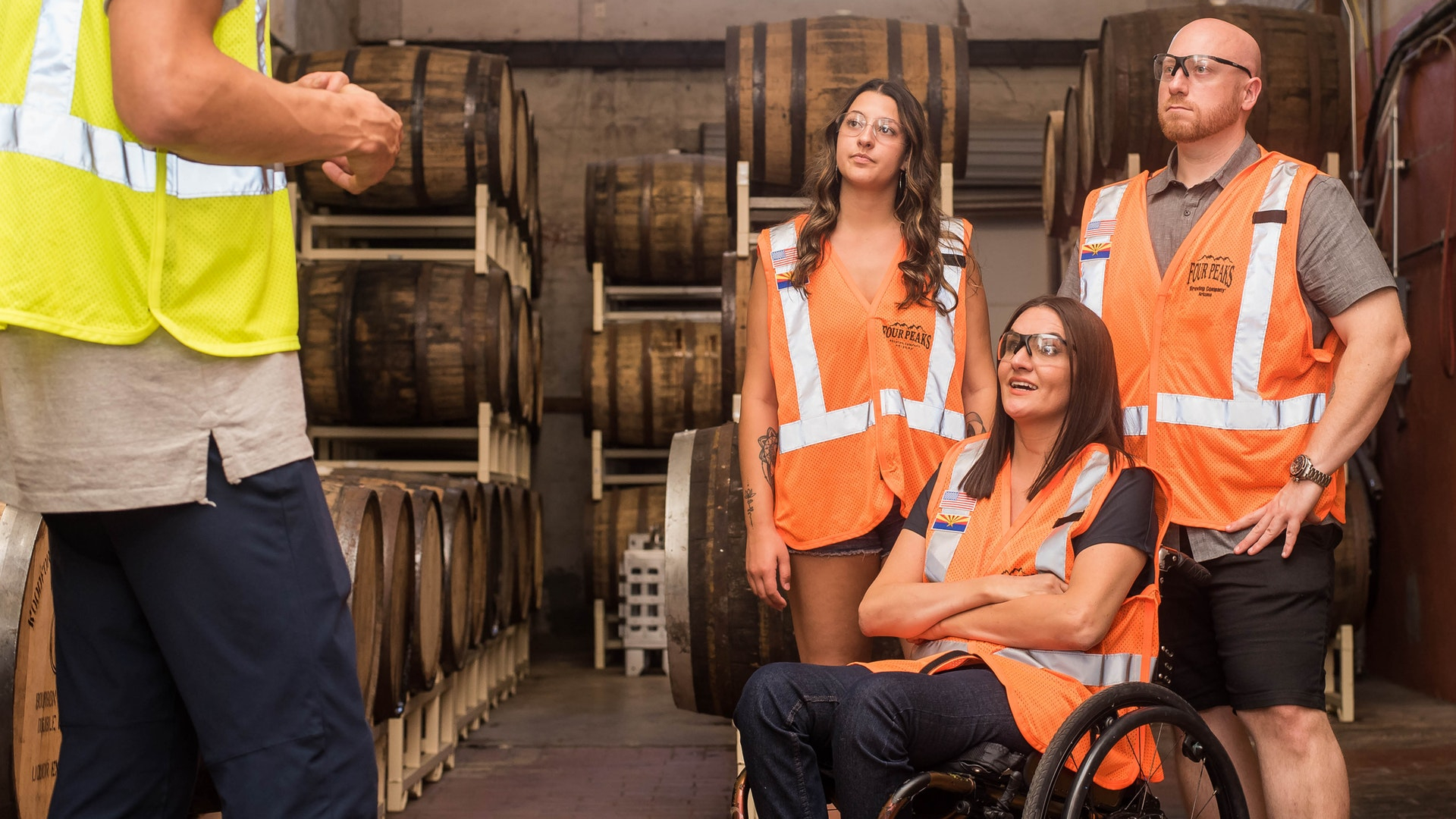 What Are Community Inclusion Services?
Community Inclusion Services are available to individuals who are of retirement age (62 years or older), or over 21 years of age and have tried employment services for nine months or more.
Services are based in the community the person lives and services are designed to support the goals and interests of the participant to development of relationships, skills and connections. Individuals are supported to develop community connections and maintain those relationships as independently as possible.
Eligibility
Clients receiving Home and Community Based Waivers (HCBS) that have tried Individualized Employment Services for a minimum of nine months.
(RCL) is a project created to help people with developmental disabilities who are thinking of moving back into the community from an institution (Residential Habilitation Centers (RHCs), nursing homes or children's mental health facilities). The project is federally funded through the Money Follows the Person grant and runs through 2020.
(PASRR) The Developmental Disabilities Administration - DDA administers PASRR, a federally mandated program, for individuals with intellectual disabilities or related conditions (ID/RC) who have been referred for nursing facility (NF) care.
Additional Information
Alpha Supported Living Services
16030 Juanita-Woodinville Way NE
Bothell, WA 98011
Phone: 206-284-9130
Fax: 425-420-1133
www.alphasls.org
AtWork!
1935 152nd Place NE
Bellevue, WA 98007
Phone: 425-274-4000
Fax: 425-274-4010
www.atworkwa.org
CARES of Washington
1833 N105th St. Suite 201
Seattle, WA 98133
Phone:206-938-1253
Fax: 206-935-0949
www.caresofwa.org
Highline College
P.O. Box 98000, MS 99-180
Des Moines, WA 98198
Phone:206-592-3526
Fax: 206-878-7247
https://ces.highline.edu/
Northwest Center
P.O. Box 80827
7272 W. Marginal Way S.
Seattle, WA 98108
Phone: 206-285-9140
Fax: 206-286-2300
www.nwcenter.org
Orion
13008 Beverly Park Road
Mukilteo, WA 98275
Phone: 425-355-1253
Fax: 425-355-1261
http://www.orionworks.org
Provail
12550 Aurora Ave N.
Seattle, WA 98133
Phone: 206-826-1053
www.provail.org
SKCAC Industries and Employment Services
19731 Russell Road S.
Kent, WA 98032
Phone: 253-395-1240
Fax: 253-395-1243
www.skcac.com
Sound Employment Services
709 NE Northlake Way
Seattle, WA 98105
Phone: 206-634-3459
Fax: 206-634-2043
www.soundemploymentservices.org
Special Care Agency
4121 McKinley Street
Carnation, WA 98014
Phone: 425-333-4114
Fax: 425-333-4115
www.specialcareagency.com
Sunrise Services, Inc. dba Community Trades and Careers
17962 Midvale Avenue N. Suite 232
P.O. Box 7368 Shoreline, WA 98133
Phone: 425-347-3149
Fax: 206-546-0305
www.sunrisecommunityliving.com
Total Living Concept
1132 W. James Street
Kent, WA 98032
Phone:253-854-7663
Fax: 253-854-0604
www.totallivingconcept.org
Vadis
16000 Christensen Road, Suite 240
Tukwila, WA 98188
Phone: 253-863-5173
Fax: 206-243-8896
www.vadis.org
Work Opportunities
6515 202nd Street SW
Lynnwood, WA 98036
Phone: 425-778-2156
www.workopportunities.org
To walk through the system:
Begin by confirming your eligibility for service with DSHS/DDA. Funding options should be discussed with the DSHS/DDA case manager. These might include funding from DSHS/DDA, KCDDD, and/or private pay.
At any point during this process individuals are encouraged to research, interview, and select an appropriate Community Inclusion service provider. Please refer to the "Community Inclusion Service Providers" tab for contracted agencies and their contact information.
For more information call:
King County Developmental Disabilities Division: 206-263-9061

Washington State Department of Social and Health Services, Developmental Disabilities Administration: 206-568-5700

Social Security Administration: 1-800-772-1213
Checklist for accessing adult services prior to seeking Community Inclusion Services:
Apply for DSHS/DDA Services

Apply for Supplemental Security Income (SSI)

Identify/develop funding resources (i.e. DSHS/DDA funding options, KCDDD, or parent/family contribution) with your DSHS/DDA case manager

Research, interview ,and select a Community Inclusion service provider

Develop your Community Inclusion plan in cooperation with DSHS/DDA case manager, service provider, Necessary Support Accommodation Representative (NSA)
What is the difference between the State Developmental Disabilities Administration and the King County Developmental Disabilities Division?
The DSHS/DDA is responsible for determining eligibility and authorizing paid services. The DSHS/DDA currently provides the following services and programs: case management, Medicaid Personal Care, residential services, residential habilitation centers, family support, dental, mental health, Voluntary Placement Foster Care program, and the Medically Intensive program. The DSHS/DDA administers services on a regional basis. Region 2 is the DSHS/DDA office that serves King County.
The KCDDD is responsible for providing employment and day program services. The KCDDD currently provides the following services: Early Intervention/Birth-to-Three, employment, community access, housing, in-home family counseling, social and recreational activities, information and assistance, advocacy, homelessness projects, and program development/technical assistance.
How can I get Community Inclusion services from KCDDD?
You must be a client of DSHS/DDA. For information on steps to take to access KCDDD Community Inclusion services see the Navigating the Community Inclusion System tab.
How do I apply for DSHS/DDA services?
If you are, or will be, living in King County, contact DSHS/DDA at 206-568-5700 or 1-800-314-3296. For additional information, visit their website. (External)
How do I apply for Social Security benefits?
To receive benefits from the Social Security Administration, you must go through an application process. To begin this process, contact Social Security at 1-800-772-1213 or visit their website.
What is the Division of Vocational Rehabilitation (DVR)?
The DSHS/DVR provides a wide variety of services that support eligible individuals to obtain employment, including vocational guidance, counseling, and development of an employment plan. For more information about their services, including how to apply, visit their website (external).
What is a Community Inclusion Service Provider?
A Community Inclusion Service Provider is a KCDDD contracted agency that supports people with disabilities to participate in activities out in their communities that help build social connections and relationships.
There are over 12 Community Inclusion Service Providers contract with King County, many with years of expertise in supporting individuals with disabilities to reach their goals to connect with other individuals and participate in activities in their community. Many of these Community Inclusion Service Providers are also contracted with DSHS/DVR. Community Inclusion Service Providers can also be referred to as Vendors, Agencies, and Community Inclusion Programs. Please refer to the "Community Inclusion Service Providers" tab for information on our Community Inclusion Service partners.
How do I pay for services offered by a Community Inclusion Service Provider?
Community Inclusion Service Providers can be paid through a variety of resources, including DSHS/DDA, KCDDD, DSHS/DDA Home and Community Based Services Waivers, PASRR, RCL Social Security Work Incentives, and private payment.
What if I do not want to work?
Washington is an Employment First State where all participants receiving waiver services must try Employment Services for nine months before entering into the Community Inclusion system. There are Exceptions to Rule (ETR) that are granted in certain circumstances when requested through your DSHS/DDA Case/Resource Manager.