CHOMP! Summer Camp: King County's local food celebration goes virtual August 24-28
Summary
Put on your virtual flip flops and mark your calendar for King County's CHOMP! Summer Camp – a five-day online event running Aug. 24-28 on chomplocal.org. In celebration of a resilient local food system, each day CHOMP! will premiere video content to engage participants from home, including a look at a few of King County's farmers, cooking demos, educational activities, performances, and much more.
Story
CHOMP! – King County's popular celebration of local food and beverage – will be hosted online this summer, offering entertaining and informative ways to promote local farms, chefs, and restaurants that offer locally-sourced food.
The weeklong CHOMP! Summer Camp – scheduled for Aug. 24-28 – will also offer tips for how to make delicious meals using ingredients grown in King County.
"We're taking CHOMP! online this summer so folks can explore new ways to enjoy locally grown food and beverages, promote sustainable farms and restaurants, and share delicious recipes that you can try at home," said King County Executive Dow Constantine. "It's an informative, entertaining, and tasty way to strengthen our local food economy and increase access to healthy, sustainable food and beverages."
Participants can enjoy all the education, fun and delicious recipes CHOMP! has to offer from the safety of their homes at chomplocal.org and on Twitter, Facebook, and Instagram.
CHOMP!'s webpage will also feature a Resource Library, including information on local farms and farmer's markets, how to support a resilient local food system and local food-related activities going on in King County. It will have resources such as the Local Food Finder, an interactive map launched in July that identifies convenient ways customers can get fresh produce, berries, flowers, meat, honey, cheese, and more delivered from local farms to their doorstep, to a nearby pickup location, or picked up directly at the farm.
CHOMP! has also announced its 2020 beneficiary organizations – the Black Farmers Collective and Wakulima USA. Each year CHOMP! partners with a local organization working to improve access to healthy, locally grown food in King County. This year CHOMP! will use its virtual programming to increase awareness about food and racial injustice and encourage support of these organizations, and it will also provide $5,000 to each beneficiary to help carry on work that aligns with the CHOMP! mission.
CHOMP! was created in 2015 as part of Executive Constantine's Local Food Initiative. It is made possible by King County Parks, and produced by Artist Home, which organizes such events as the successful Timber! Outdoor Music Festival at King County's Tolt-MacDonald Park in Carnation; Timbrrr! Winter Music Festival in Leavenworth; and Doe Bay Fest on Orcas Island. Artist Home is known for integrating unique natural settings into the event experience, and uniting music, community and nature.
For more details about CHOMP! Summer Camp and to sign up for e-mail updates, visit chomplocal.org, or follow updates via the event Facebook page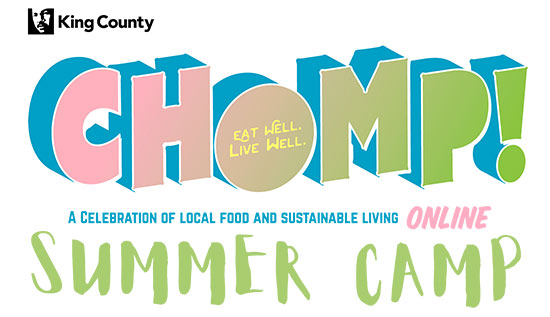 About King County Parks
King County Parks - Your Big Backyard - offers more than 200 parks and 28,000 acres of open space, including such regional treasures as Marymoor Park and Cougar Mountain Regional Wildland Park, 175 miles of regional trails, 215 miles of backcountry trails and a world-class aquatic center. By cultivating strong relationships with non-profit, corporate and community partners, King County Parks enhances park amenities while reducing costs.
About Artist Home
Artist Home is a company of culture makers, community builders, and event producers who have served the Pacific Northwest for more than 10 years. Since its inception, Artist Home has become a prominent part of the Northwest Music community by creating one-of-a-kind festival experiences and providing booking services, talent buying for regional venues and festivals, artist consultation, and promotional services.
Relevant links
For more information, contact:
Press inquiries for programming and partners, contact Kevin@artisthome.org
For other press inquiries, contact Logan Harris, Department of Natural Resources and Parks, 206-477-4516
---