As statewide plastic bag ban begins Oct. 1, customers reminded to keep plastic bags and wrap out of recycling bins
Summary
Washington's statewide plastic bag ban takes effect Oct. 1, and customers are reminded to reduce recycling contamination by keeping plastic bags and wrap out of recycling bins and taking those materials to drop-off locations or placing them in the garbage.
Story
Washington's statewide plastic bag ban goes into effect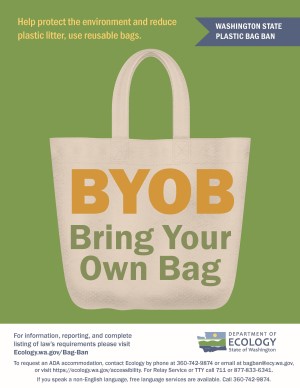 Oct. 1, meaning food service businesses, restaurants, retail, small and temporary vendors, and grocery stores will stop providing single-use plastic carryout bags. Customers are encouraged to bring reusable bags when shopping, or to purchase a paper or reusable bag from the merchant.
Customers who have accumulated leftover, unwanted, or unneeded plastic bags are reminded plastic bags and wrap are not accepted in curbside recycling carts or bins. These materials can be reused, brought to a drop-off location for remanufacturing, or placed in the garbage for disposal. Drop-off locations can be found by visiting
plasticfilmrecycling.org
.
"People in King County value environmental stewardship, and we applaud their efforts to keep plastic bags and wrap out of recycling bins since those materials stopped being accepted in 2019," said Jeff Gaisford, King County Solid Waste Division Recycling and Environmental Services Manager. "The new statewide plastic ban is another important step toward reducing waste and recycling right."
Plastic bags are a source of pollution that threatens human health, wildlife, and the environment. They are also a major contaminant in Washington's recycling system, clogging sorting machines and putting worker safety at risk. Reducing their use will protect the state's rivers and streams, help recycling systems run more efficiently, and contribute to a growing culture of waste reduction and reuse. Bringing plastic bags and wrap to a drop-off location keeps the bundled recyclables cleaner and easier to manufacture into new products.
Visit
ecology.wa.gov/bagban
for more information, tools and resources, and a complete listing of compliance requirements for Washington's statewide ban on single-use plastic bags.
RELEVANT LINKS
•
To learn more about the statewide plastic bag ban visit:
ecology.wa.gov/bagban
•
To find a plastic bag and wrap drop-off location visit:
plasticfilmrecycling.org
FOR MORE INFORMATION, CONTACT:
Doug Williams, 206-477-4543
About the King County Solid Waste Division
The Solid Waste Division is guided by its vision to achieve Zero Waste of Resources by 2030, and to enhance the environment through collaboration and innovation. The division operates eight transfer stations, two rural drop boxes, and the Cedar Hills Regional Landfill – the only operational landfill in the county. Our stakeholders include residents and business owners in unincorporated King County and 37 cities throughout the county. Our mission is to bring the best people together to deliver value our customers and stakeholders, and to continuously improve waste prevention, resource recovery, and waste disposal.