BECU Outdoor Movies at King County's Marymoor Park return July 6 with food trucks, entertainment, and dog-friendly events
Summary
Outdoor movies will return to King County's Marymoor Park on July 6, when the BECU Movies at Marymoor series opens for its 19th season of outdoor film events, entertainment, and food trucks. The series will run weekly from July 6 through Aug. 23 with blanket-and-chairs festival seating.
Story

After three years of drive-in movies to help ensure public health during the pandemic, the BECU Outdoor Movies at Marymoor series returns for a 19th season with a walk-in, blanket-and-chairs festival format beginning July 6 at King County's Marymoor Park in Redmond.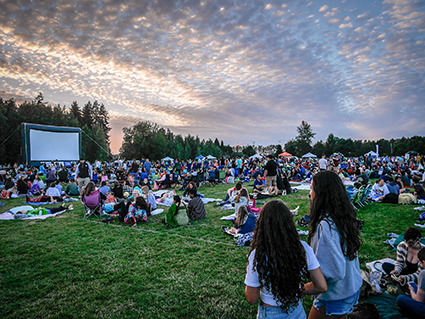 The summer lineup includes this year's Academy Award-winning "Everything Everywhere All at Once," high-flying action in "Top Gun: Maverick," Pixar classics "Monsters, Inc." and "Up," the Marvel hit "Black Panther: Wakanda Forever," and perennial favorites "Grease," "The Goonies," and "The Princess Bride."
The series runs weekly through Aug. 23. All BECU Outdoor Movies at Marymoor events feature entertainment, a dog-friendly environment, and a variety of food trucks prior to each film. Seating is "bring your own" blankets and chairs.
Tickets are $10 per person pre-sale and available at MoviesatMarymoor.com. Tickets at the door will be $13. Kids 5 and younger get in free. Event parking at Marymoor Park is $10 per vehicle.
The series is produced by Epic Events in a partnership with King County Parks.
2023 BECU Outdoor Movies at Marymoor presented by InnovAsian
July 6: Grease
July 12: Everything Everywhere All at Once
July 19: Monsters, Inc.
July 26: Top Gun: Maverick
Aug. 2: The Goonies
Aug. 9: Black Panther: Wakanda Forever
Aug. 17: Up
Aug 23: The Princess Bride
Relevant links
For more information, contact:
Doug Borneman, Epic Events, 360-733-2682
Eleanor Lee, King County Parks, 206-477-4530