Vashon Island organics processing feasibility study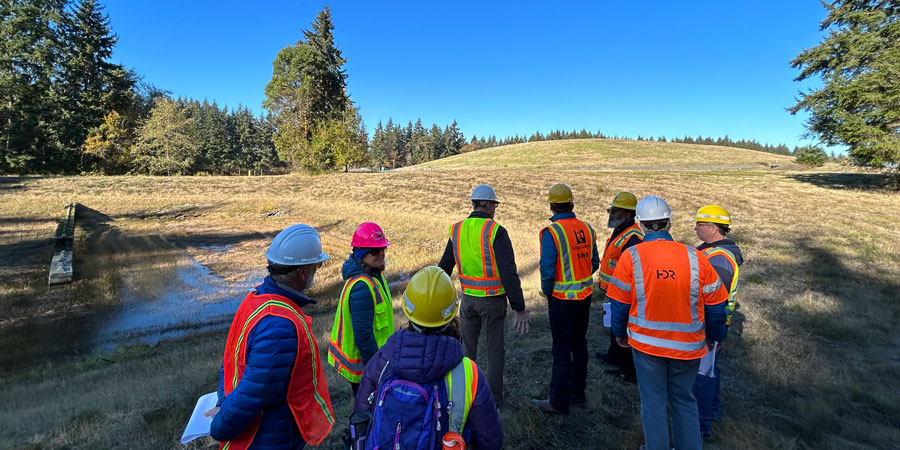 We've partnered with Zero Waste Vashon to explore whether there's a way to process organic waste produced by Vashon, on Vashon. Our project considers the costs and benefits of an on-island compost processing facility. We'll determine whether to proceed based on a feasibility study and community survey.
Project background
Over 35 percent of the waste sent to the Cedar Hills Regional Landfill is organic material such as food and yard waste. Recycling organics instead of landfilling has many economic and environmental benefits. It reduces greenhouse gas emissions and produces a valuable product for natural soil-enhancement. King County is working to maximize organics recycling to help meet our goal of zero waste of resources by 2030.
This project explores creating a self-sustaining organics system that minimizes waste on Vashon. Currently, households and businesses on Vashon don't have curbside organics collection. Some compost their own organics or haul it to the Vashon Recycling and Transfer Station. Once collected at the transfer station, Cedar Grove transports the organics to a processing facility in Maple Valley.
Where we are now
King County continues to discuss and explore organics processing options on the Island with stakeholders and haulers. Several studies have been completed to determine the feasibility of this type of program on the island, as well as additional surveys and meetings with the community to share information and gain feedback on interest.
Site visit
In mid-November of 2022, the project consultant, employees from HDR, Zero Waste Vashon representatives and King County Solid Waste staff toured the proposed project site at the Vashon closed landfill.
The HDR consultants inspected and discussed the physical attributes of the site, landfill installations, the adjacent storm drain and pond, proximity issues with the transfer station and the neighboring property of the site.
Feasibility study
In 2020, we hired HDR to study small-scale organics management options on Vashon. Their work assessed project viability and did not include facility siting. They looked into feedstock, composting methods, technologies, estimated costs, and end markets. The findings are now available in two reports.
Community survey
King County Solid Waste staff worked with Zero Waste Vashon and Comengage, a market research firm, to conduct a community survey in early 2022. The survey gathered input on organics collection, processing, and on-island compost use.
Community meeting
In June 2022, King County Solid Waste staff, Zero Waste Vashon representatives and consultants from HRD presented to Vashon residents about the results of the community survey and feasibility study for processing organics on the island. Staff detailed next steps that the County would take in it's analysis and decision making and answered questions from residents.
Siting study
In July 2022, an internal siting study was completed by King County Solid Waste staff. The report identified two locations adjacent to a closed landfill which may be suitable for use. Each site is greater than one acre in area and has a slope less than 5%. A third option combines the two sites into approximately 2.7 acres. This provides a much wider area for development.
A team of staff made up of King County Recycling and Engineering Services members met and discussed the report's recommendations. It was agreed that the report should be handed over to HDR for further technical analysis and recommendations.
Next steps
King County Solid Waste is currently looking at whether the closed landfill site would serve as the best location for a processing facility or if study analysis should be extended to look at additional locations.
As the project moves ahead, we'll continue to work with Zero Waste Vashon on community outreach. That includes opportunities for the public to provide input.