Re+ (zero waste)
Learn about our plan to keep valuable materials out of the landfill and reduce climate impacts.
King County's Re+ plan
The Re+ plan is King County's roadmap for a healthy environment and economy by reinventing our system of waste management. Our goal is to minimize waste by keeping valuable materials in use and out of the landfill. Through Re+, we're deepening our waste prevention and reduction methods. We're finding innovative ways to match materials with end markets. And in doing so, we're reducing climate emissions and helping create new jobs in a greener economy.
Re+ mission
Reducing single use items
Reusing everything that can be
Recycling what's left
Renewing communities
Rethinking what's possible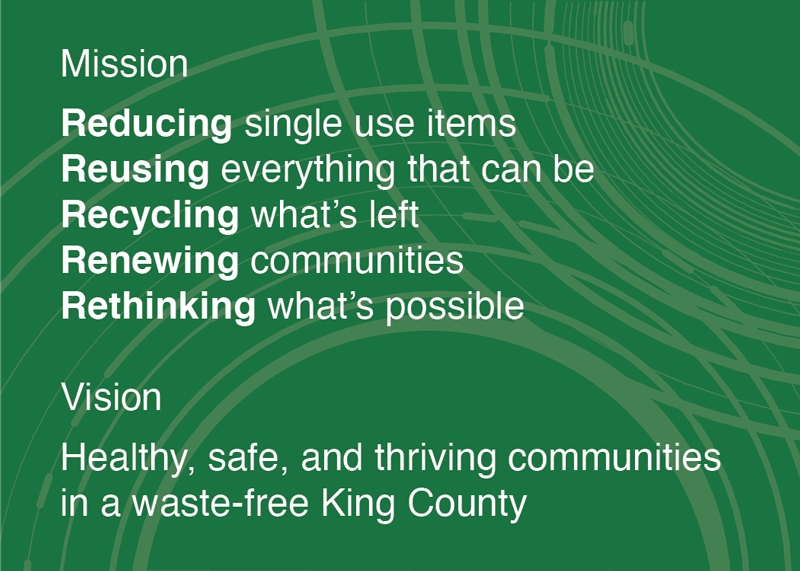 Re+ vision
Healthy, safe, and thriving communities in a waste-free King County
The big issue of waste
Over 70 percent of the stuff sent to the Cedar Hills Regional Landfill each could have been repurposed. Materials like paper, plastic, metal and food waste have value that we can access through recycling, reusing or composting. In the face of our current environmental challenges, we can't afford to continue wasting finite resources. A systemic shift is needed to transition from a linear "throwaway economy" to one that prevents waste and makes better use of valuable materials.
Our approach
Re+ is about reducing the amount of garbage that needs to be managed by keeping materials in use longer and recovering economically valuable resources that now get buried in a landfill. Re+ supports local action to achieve climate goals outlined in King County's Strategic Climate Action Plan (SCAP) and the King County-Cities Climate Collaboration (K4C) agreements.
Below are the foundational Re+ initiatives that we're currently developing. These initiatives focus on minimizing King County's environmental footprint, creating more green jobs, diverting waste from the landfill, and ensuring everyone in King County has equal access to efficient waste services.
Innovation Platform: Stimulating the waste-free economy through inclusive and equitable grants, technical support, and guidance.
Washington Organics Process: Advancing state and county legislation that sends food and yard waste to be recycled so these important organic materials are kept out of landfills.
Single-family Organics Changes: Making food and yard waste collection accessible, beneficial, and cost effective for single-family households in unincorporated King County.
Co-Digestion for Commercial Food Waste: Using King County Wastewater Treatment Division's existing infrastructure to convert food scraps into fuel.
Infrastructure for Mixed Waste Processing Request for Proposal: A competitive search of new technology that will make capturing resources out of the waste stream more efficient.
Transfer Station Optimization: Transforming transfer stations from garbage-focused to recycling led.
Community Panel: Bringing together diverse communities and voices to chart a path toward a more equitable, waste-free King County.
Check back in Spring of 2022 to read the full Re+ Plan.
Stay in touch
Have questions about the Re+ plan? Contact Program Manager Patty Liu email Patty Liu – Program Manager