Maplewood Landslide and Flood Risk Reduction Feasibility Study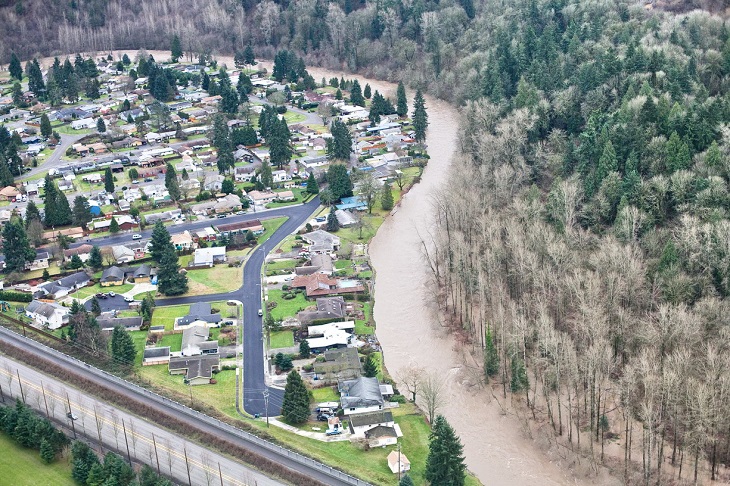 Project update and noise alert
Several homes within the Maplewood neighborhood are at risk from river flooding and bank erosion and could be surrounded by water and isolated during a 100-year flood event. The extent of flood hazards could be affected by potential landslides from the steep slopes along the opposite river bank.
King County, as the service provider to the King County Flood Control District, will be collecting the necessary data along these slopes to evaluate flood-related hazards and determine how best to address them. Once we know more, we will share this information with the neighborhood and other stakeholders. We expect to hold a neighborhood meeting in late fall or winter 2018, when our initial hazard assessment should be complete.
For additional information and project updates, please contact Kate Akyuz, project manager, at 206-477-4607 or at kate.akyuz@kingcounty.gov. Or sign up below for email updates about the project.
Overview
Sign up for announcements
The Maplewood neighborhood is located within the City of Renton between State Route 169 and the Cedar River. Several homes in the neighborhood are at risk from river flooding and bank erosion. These risks could increase if a landslide large enough to interact with the river were to occur on the steep slope on the opposite side of the river from the neighborhood. The slope is mapped as a potential landslide hazard and has a history of landslide activity. The problem area was identified in the Draft Cedar River Capital Investment Strategy.
This project will analyze these flood and landslide hazards and potential assocated risk in the Maplewood neighborhood. It will include an analysis of existing levees to see if levee-modifications could mitigate flood risks. If the landslide hazard assessment indicates the potential to increase flood risks, an additional feasibility study will be conducted to evaluate options to mitigate landslide hazards.
At this point, funding is for a risk analysis and the development of alternatives for mitigating the risk. Funding does not include the selection of a preferred alternative or the design and construction of the selected alternative.
Project area
The Maplewood neighborhood in the City of Renton. (Click on image to see the map as a PDF.)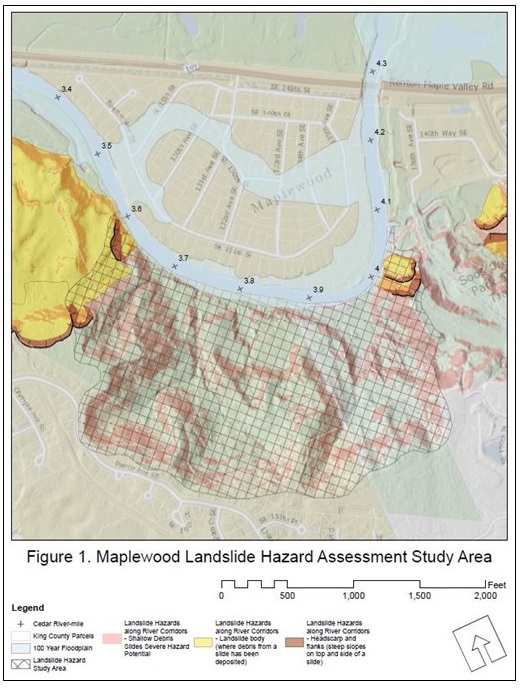 Project goals
The completion of a landslide hazard and flood risk assessment for the Cedar River reach that runs past the Maplewood neighborhood.
Feasibility study to determine if modifications to the Erickson Levee can mitigate flood risks along the right bank of the Maplewood neighborhood.
If a landslide hazard assessment indicates a potential to contribute to flooding, an additional feasibility study to evaluate landslide hazard mitigation options.
Project timeline
| | |
| --- | --- |
| Benchmark | Date |
| Flood and landslide hazard/risk assessment begins | April 2018 |
| Hazard assessment completed | August 2018 |
| Risk analysis completed | December 2018 |
| Development of potential risk mitigation solutions | January 2019 |
| | |
Project sponsor
This project is sponsored by the King County Flood Control District.
Project documents
Project documents are available in Adobe Acrobat format. For help using Acrobat files, please visit our Acrobat help page.
For more information about the Maplewood Landslide and Flood Risk Reduction Feasibility Study, please contact Kate Akyuz, Project Manager, King County River and Floodplain Management Section, Water and Land Resources Division, Department of Natural Resources and Parks.