Project updates
High Use Engines Construction in progress as of spring 2021.
Fish Passage Improvement Alternatives Analysis in progress as of November 2021.
Seismic and Structural Alternatives Analysis in progress as of November 2021.
P1 Pump is reinstalled and will be operational by spring 2022.
Project overview
The Black River Pump Station is an important structure of the Green River flood control system. The pump station must work reliably to provide flood risk reduction benefits to the highly developed and largely commercial portions of Renton, Kent, and Tukwila. After almost 50 years of continual operation, the pump station requires rehabilitation to meet current standards to ensure safe, reliable, and efficient operations.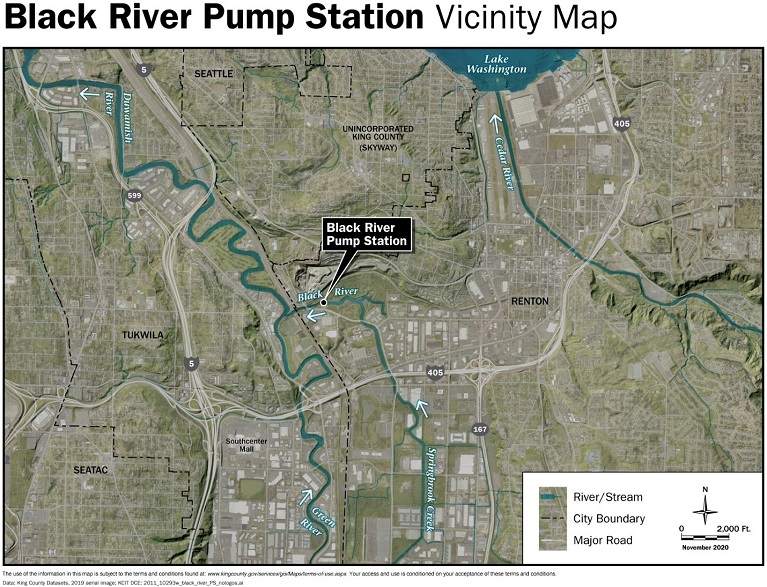 The Natural Resources Conservation Service built the Black River Pump Station in 1970 in partnership with King County, and the facility has operated continuously since 1972. The station protects over 2,800 acres with an estimated 370 structures in Renton, 210 structures in Kent and 60 structures in Tukwila, and an estimated $4.4 billion in assessed value.
The station contains eight flood control pumps. The primary pump (P-1) has a 200-horsepower electric motor that pumps the majority of the flow during the year. The other seven flood control pumps are driven by diesel engines and are important when major flooding occurs. Most of the year the diesel engines and pumps are not in use. The station also includes several support systems; including systems to allow fish to pass both upstream and downstream.
Project purpose and goals
Improvements to the Black River Pump Station will help to ensure that the station continues to provide flood risk reduction benefits to this economically vibrant area, and fish passage improvements will provide better access to habitat and support long-term recovery goals for salmon and steelhead populations.
The project is based on the three goals of the 2006 King County Flood Hazard Management Plan:
To reduce the risks from flood and channel migration hazards.
To avoid or minimize the environmental impacts of flood hazard management.
To reduce the long-term costs of flood hazard management.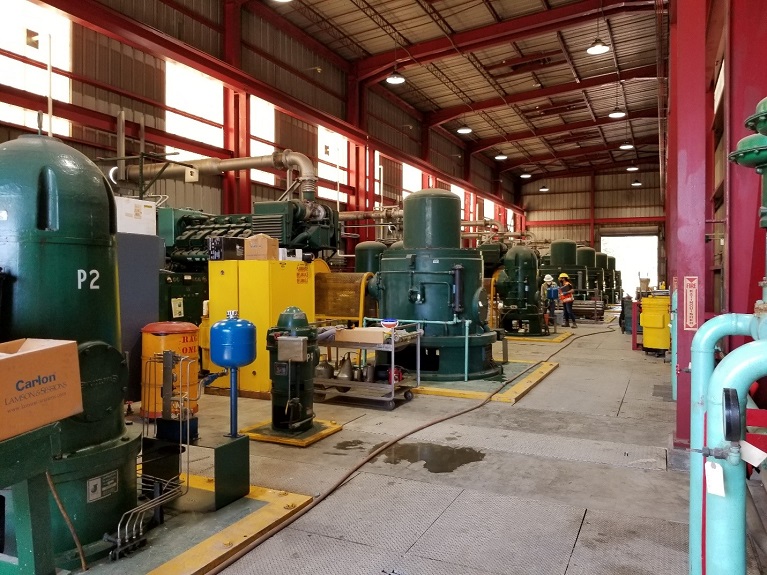 Capital Project Strategy
To ensure the pump station continues to provide flood risk reduction benefits and operates safely, reliably, and efficiently, a capital project strategy was developed and approved in September 2020. The capital project strategy is based off the technical memo developed in 2019 and guides planning, design, and implementation of improvements. Current capital project strategy work elements include:
Replace High-use Engines
Seismic & Structural Improvements
Fish Passage/Fish Exclusion Improvements
Mechanical System Upgrades
Replace Control Building
Replace Large Pumps
Sediment Management
Capital Project Strategy Alternatives and Evaluation Criteria Technical Memorandum, December 2019 (7.83 MB, PDF)
Schedule milestones
Planning, designing, and implementing upgrades began in 2018 and will occur over seven to 10 years. High level milestones are identified in the table below.
| Activity | Start date |
| --- | --- |
| Seismic and fish passage preliminary analyses | 2019 |
| Fish passage improvements: outreach and early actions | Summer 2020 |
| Replace high-use pump engines | Spring 2021 |
| Mechanical system early action repairs | Fall 2021 |
| Replace control building alternatives analysis | Planned 2023 |
| Seismic and structural design | Fall 2023 |
| Replace large pumps alternatives analysis | Planned 2024 |
| Fish passage improvements | Planned 2025 |
| Replace large pumps | Planned 2026 |
Fish passage/fish exclusion improvements
The Black River Pump Station was built and began operation prior to the Endangered Species Act listing of Puget Sound Chinook and steelhead, and concerns have been raised about the station's impact on fish. Facility improvement efforts offer an opportunity to better the pump station's fish passage systems. The input of technical stakeholders and tribal representatives regarding fish passage needs at the pump station is essential to the success of improvements. Early engagement started in 2020 with phone calls, briefings, and two remote work sessions. Additional input will be requested as improvement alternatives are developed.
High-use engines
Construction to replace the high-use engines and overhaul the most frequently used flood pumps began in March 2021. Construction is expected to be completed by December 2022.
The environmental impact comment period for this action was April 3-17, 2020.
Seismic and structural improvements
Geotechnical explorations were completed in summer 2020. Results from the explorations are documented in the Geotechnical exploration Report below. Alternatives Analysis for Seismic and Structural retrofits is in progress. A preferred alternative will be identified in February 2022.
Sediment management
In 2020 and 2021, multiple storm events moved more sediment into the forebay at BRPS, requiring an urgent response to address damage to the fish screens. These sediment loads highlight the need to proactively manage sediment in the forebay and area upstream of the station to maintain effective fish screen operability and flood management responsiveness. As a result, alternatives for better managing sediment have been refined.
Mechanical system upgrades
Initiating early action repairs in 2021.
Replace control building
Initiating Alternatives Analysis in 2023.
Replace large pumps
Initiating Alternatives Analysis in 2024.
Project documents
The following series of technical memos were completed in 2015 and document the condition of the pump station and identify priorities for capital improvements. The capital improvements listed above were first recommended in the memos below.
Sediment removal project
In 2016, sediment that had accumulated and was blocking much of the pump station's inlet channel and reduced flood storage was removed.
For more information about the Black River Pump Station, please contact Tom Bean, River and Floodplain Management, Department of Natural Resources and Parks.