Project update
In fall 2020, the King County Flood Control District (District) selected a levee setback and extension as the preferred alternative to move forward through design and construction. Public input and technical analysis informed the District's decision.
Sign up for announcements
About the levee setback and extension
The map below illustrates many of the project's design elements which include:
Removal of the existing levee and construction of a new extended levee set back from the river (to the north and east). This new levee will reduce overflows from Taylor Creek over the road and into the neighborhood. The setback levee will also create more space for flood flows and enhancement of fish habitat along the Cedar River.
Integration of a fish-friendly buried biorevetment to protect the new setback levee from river erosion. A biorevetment uses wood and vegetation to control and minimize erosion along shorelines or riverbanks rather than layers of rock.
Installation of a larger culvert under Southeast 197th Place to convey a large portion of flood flows under the road. A temporary bypass road would be built to maintain neighborhood access during construction of the roadway culvert upgrade.
Construction of side-channels in the floodplain to carry a portion of the flow. This will reduce erosion risks to the Cedar River Trail and State Route 169 and provide areas of slower moving water for fish.
Placement of large wood within the main channel and floodplain to meet the mitigation requirements of the 2017 Cedar River wood relocation efforts (not pictured).
Installation of gates to secure levee maintenance road access.
Relocation and upgrades to overhead power and utility lines (not pictured).
Demolition of acquired residential property.
Project area
The Jan Road Levee Setback project area is located on the left and right banks of the Cedar River, between River Miles 12.6 and 13.3 in unincorporated King County, about one mile northwest of the State Route 18/State Route 169 interchange.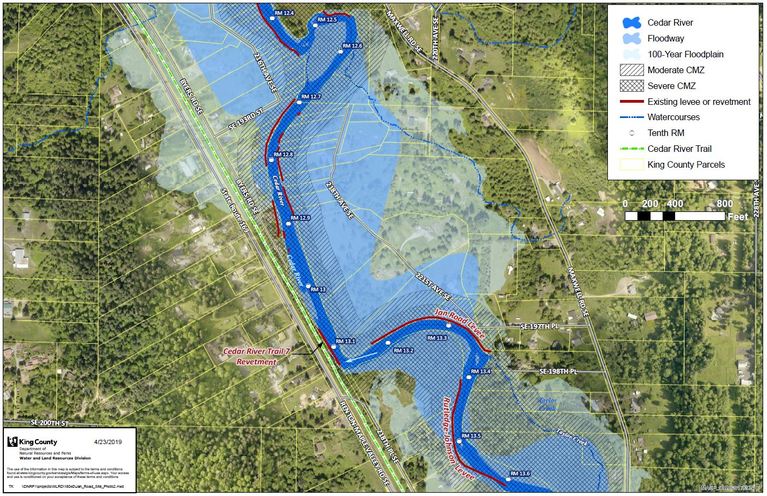 Project overview
The Jan Road Levee Setback Project will reduce flood and erosion risks to the people, property, and infrastructure in the area. The project is in a neighborhood served by a sole access roadway composed of S.E. 197th Place, 221st Avenue S.E., and 218th Avenue S.E. in Maple Valley. This roadway has also been known as "Jan Road." It is adjacent to the Rutledge-Johnson Levee Partial Levee Removal (Rutledge-Johnson), a county project focused both on flood risk reduction and habitat restoration. Due to their proximity, the analysis of the Jan Road Levee Setback project will consider the Rutledge-Johnson Project to ensure the two projects complement one another.
Flooding of the Jan Road neighborhood occurs during moderate and higher flood events, and as recently as February 2020 and January 2009. Overflows from Taylor Creek cause flooding and cut-off neighborhood access via the private sole access roadway, resulting in hazardous conditions for people and damage to property. A 100-year flood event (a flood that has a 1 percent chance of happening in any given year) would remove road access for up to 15 single-family homes.
Additionally, the Jan Road Levee directs flows toward the Cedar River Trail Site 7 (CRT7) Revetment, which protects the Cedar River Trail (Trail) and State Route (SR) 169. Erosion of the CRT7 Revetment could lead to damage of the Trail and SR 169, resulting in costly repairs. The existing levee also disconnects the river from its floodplain eliminating access to potential flood storage and rearing habitat necessary to raise healthy salmon.
Flood and erosion risks in the Jan Road neighborhood and along the Cedar River Trail were evaluated as part of a 2017 corridor-wide planning process that resulted in development and adoption of the Cedar River Capital Investment Strategy (CIS). The CIS summarizes key risks and identifies initial options to be considered to address these problems.
During the preliminary design phase, detailed analysis of the flood conditions within the project area were used in the development and evaluation of alternative project solutions, within the context of the project goals.
Project goals
Reduce overall flood-related risks to people, property, and infrastructure, including the Jan Road Levee, the Cedar River Trail, and SR-169,
Ensure new flood protection infrastructure (levee and revetment) meets current engineering standards to minimize long-term site management costs.
Provide all required mitigation for the 2017 Cedar River wood relocation efforts.
Improve natural riverine and riparian processes, functions, and habitat.
Project timeline
| | |
| --- | --- |
| Benchmark | Date |
| Planning and Alternatives Selection | Summer to Fall 2020 |
| Design and Permits | Fall 2020 to Spring 2022 |
| Early Construction | Fall 2021 |
| Construction | Summer to Fall 2022 |
Project sponsor
Design and construction are to be funded by the King County Flood Control District, partner agencies, and grants.
Project documents
SEPA documents
Project design documents
For more information about the Jan Road Neighborhood Improvements Project, please contact Dan Heckendorf, Project Manager, King County River and Floodplain Management Section, Water and Land Resources Division, Department of Natural Resources and Parks.