Lower Frew Levee Setback Project
Project Update
Do you know what is happening in your community that will reduce flooding risks for you and your family? We invite you to attend and view our Virtual Open House. We will be sharing project information and the four alternatives that are being considered to reduce flood and erosion risks for residents near the Tolt River.
The survey located in the Virtual Open House will be open from March 9, 2023 to March 27, 2023. This Virtual Open House will remain open. Your feedback will help inform the project design.
Project Overview
Sign up for announcements
Flooding and riverbank erosion are serious risks for residents near the Tolt River. Recent floods have damaged homes, closed roads, and required costly repairs to levees. Most levees on the Tolt River were built more than 60 years ago to protect farmland. The levees constrained the river and disconnected it from its historic floodplain.
King County, as the primary service provider to the King County Flood Control District, is planning a project that will reduce flood risks and improve habitat in and along the lower Tolt River. King County plans to remove the existing Lower Frew Levee and construct a new levee farther away from the river. The recreational Tolt River Trail will be rebuilt on top of the new setback levee. The trail will provide a link between the Snoqualmie Valley Trail and Tolt MacDonald Park. The Lower Frew Levee Setback project will reconnect the river to 34 acres of floodplain. This will provide critical habitat for fish while reducing flood and riverbank erosion risks to people, property, roads, and bridges. King County expects to complete the project between 2026 and 2027.
The Tolt River is home to Chinook salmon, bull trout, and steelhead trout. These fish species are all listed as threatened under the Endangered Species Act. This project will support their recovery by providing access to critical habitat. The project will reopen a blocked side channel of the river. Fish need side channels to lay eggs, known as spawning, and protect young fish from predators.
The Lower Frew Levee Setback project is in the City of Carnation. The project is on the north bank of the Tolt River, between SR 203 and the Snoqualmie Valley Trail.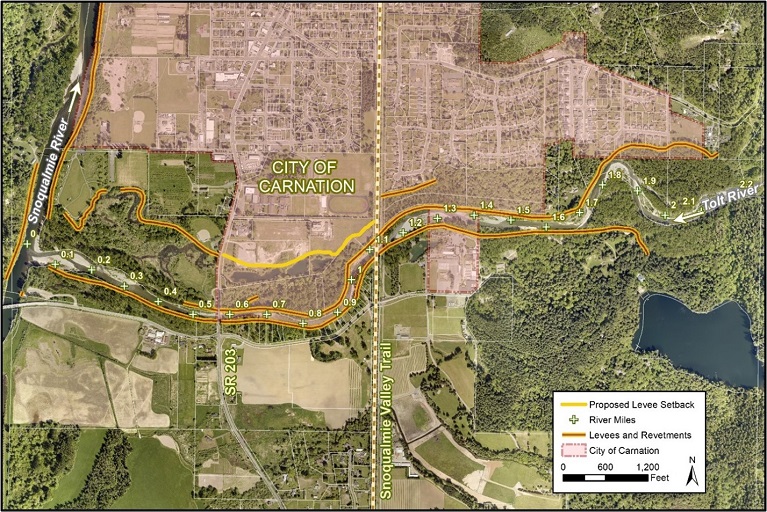 Project Goals
Reduce flood and riverbank erosion risks to people, property, roads, and bridges.
Improve habitat for salmon and other fish.
Engage with tribes, residents, City of Carnation, and stakeholders to identify how the project can best reduce flood risks, improve habitat, and provide opportunities for recreation.
Limit disruption to SR 203, Tolt MacDonald Park, and recreational trails during construction.
Project Schedule
| Activity | Date* |
| --- | --- |
| Collect data and information | 2020-2022 |
| Design and permitting | 2022-2025 |
| Construction | 2026-2027 |
For more information about the Lower Frew Setback, please contact Sarah McCarthy, Ecological Restoration and Engineering Services Unit, in coordination with the River and Floodplain Management Section, Water and Land Resources Division, Department of Natural Resources and Parks.