Lower Russell Levee Setback
Sign up for announcements
The Lower Russell Levee Setback project is part of a larger overall flood management strategy for the lower Green River. The project is located in the City of Kent along the right (east) bank of the Green River between South 212th Street and Veterans Drive/South 228th Street.
This 1.4-mile-long levee improvement project will replace an old levee and revetment that do not meet current engineering design standards. The new levee will be set back from the Green River where feasible and better protect residential and commercial development behind the levee, while also improving riparian and aquatic habitat along the Green River for fish and wildlife. The project will integrate existing road, trail and park amenities and enhance existing recreational opportunities.
The selected project alternative is shown on the map below. Click to open the map in Adobe Acrobat (3.4 MB, PDF).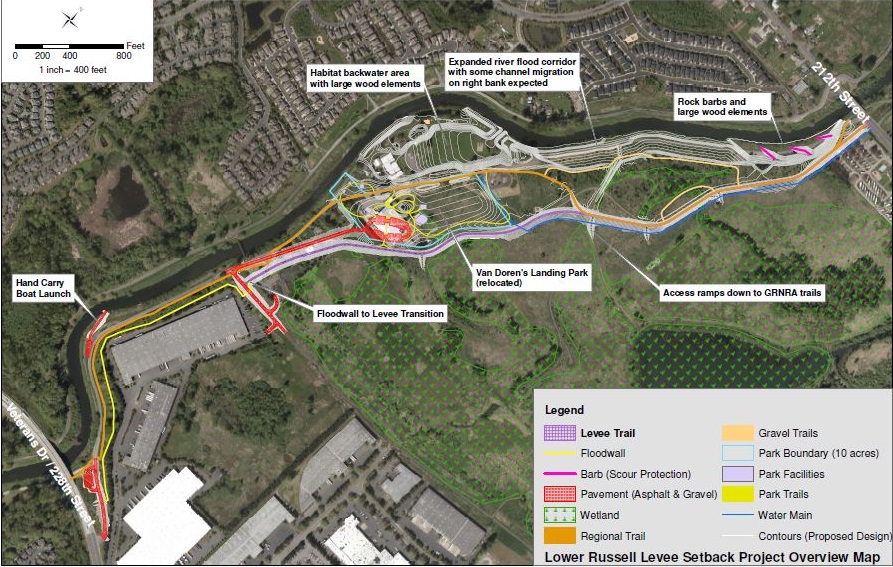 The Lower Green River Valley supports regionally significant economic assets that contribute over one eighth of Washington's gross domestic product. The levee system in the Lower Green River Valley is old, outdated, and was originally constructed to protect agricultural lands rather than the regional economic infrastructure, businesses and residential land uses of today.
The Lower Russell Levee Setback Project is an early action project of the Interim Green River System Wide Improvement Framework (SWIF). In setting the levee back from the river, this project supports the goals of the SWIF by providing greater flood storage and conveyance capacity, increasing shallow, slow water habitat for ESA-listed species, enhancing recreational opportunities, and reducing long-term maintenance costs.

Van Doren's Park and Green River Trail
Project goals
Improve flood protection by replacing and upgrading 1.4 miles of existing levee and revetment with a new flood containment system that meets current engineering design standards and is built to a 0.2 percent annual chance (a.k.a., a 500-year) flood event.
Restore aquatic and riparian habitat for fish and wildlife, including species listed under the Endangered Species Act. The project is identified as a priority project in the 2005 WRIA 9 Salmon Habitat Plan.
Complement existing parks, trails, and open space, thereby creating a unified landscape that offers opportunities for active and passive recreation while at the same time restoring habitat and providing flood protection.
Reduce long-term maintenance costs.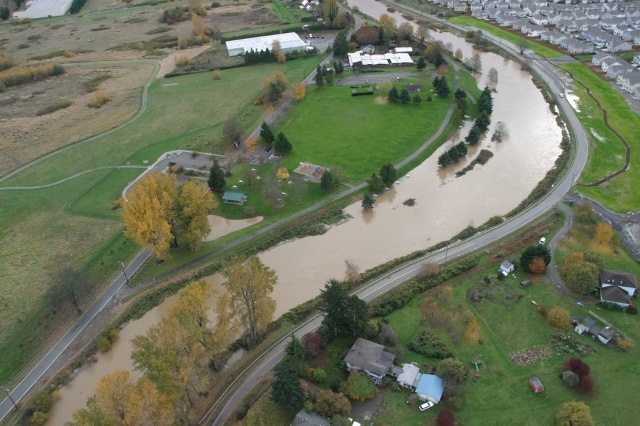 A view of the Green River looking south at Van Doren's Park, Lower Russell Road and the levee in Nov. 2006 during a Phase 3 flood event (10,000 cfs)
Project schedule - Updated October 2017
The project schedule is shown in the graphic below. Construction is currently scheduled to begin in 2019.
Public meetings
King County and the City of Kent will hold additional public meetings during the design phase of the project and prior to construction. Upcoming meetings will be noted on this web page when scheduled. Sign up for announcements to be made aware of the next scheduled meeting and other information. Residents and property owners within close proximity of the project site will also be notified of future meetings by mailings. Previous public meeting dates and information presented are as follows:
Nov. 19, 2014 - The first public meeting for this project presented initial project information. Following is the presentation and handout about alternative alignments. (Acrobat help).
June 8, 2015 - Approximately 40 residents attended the second public meeting in the City of Kent to discuss the King County Flood District's Lower Russell Levee Setback Project. At this meeting, a preferred alternative was presented that included flood protection, habitat restoration, and recreation improvements. A decision on the preferred project alignment is expected this summer and project construction is anticipated in 2017.
Oct. 25, 2017 - Approximately 40 people attended the third public meeting in the City of Kent to discuss the King County Flood Control District's Lower Russell Levee Setback Project. King County project managers presented the project at 60 percent design, and Kent officials discussed design components of Van Doren's Park.
Project partners and funding
This project is funded with $46.9 million in King County Flood Control District funds, plus an additional $4.9 million Floodplains by Design grant from the Washington State Department of Ecology. The current project cost (assuming 2019 construction start) is $52 million. The Flood Control District is pursuing additional funding to close the funding gap. The King County Rivers and Floodplain Management Section is managing the project in partnership with the City of Kent.
Supporting documents
SEPA documents
Project design documents
(For help viewing PDF files, see Acrobat Help page.)
Additional resources