Mason Thorson Ells Levee Rehabilitation Project
Si necesita ayuda para entender dicha información, favor de llamar al 206-477-4812 y se conseguirá un intérprete por teléfono para que nos asista.
Project Overview
King County, as the primary service provider to the King County Flood Control District is partnering with the U.S. Army Corps of Engineers (Corps of Engineers) to repair a damaged levee on the Middle Fork Snoqualmie River near the City of North Bend. A portion of the downstream end of the Mason Thorson Ells Levee was damaged during a flood in February 2020, creating a flood and safety risk to nearby properties and roads.
This repair is a part of the Corps of Engineers' Levee Rehabilitation and Inspection Program. Repairs are planned for 2022, utilizing 80% federal and 20% local funds. Construction will include regrading and adding rock to the eroded bank, as well as adding plants to the slope and behind the levee. King County will seek input from tribes, public recreational groups, City of North Bend, and other stakeholders on the project design. This input will inform County comments to the Corps of Engineers. The project is expected to be completed by October 2022 and will reduce flood risks to people and property.
This part of the Middle Fork Snoqualmie River is used for river recreation. King County will share information about any impacts to accessing the river from Southeast 114th Street in advance of construction.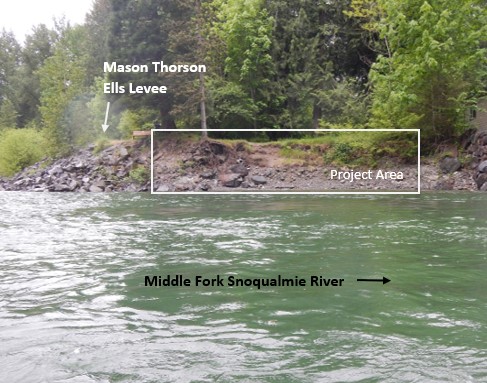 Project Goal
Repair and stabilize active erosion at the downstream end of Mason Thorson Ells Levee.
Project Schedule
| Activity | Date |
| --- | --- |
| Corps of Engineers Design and National Environmental Policy Act (NEPA) Process | 2020-2022 |
| Construction | Summer - fall 2022 |
| Site monitoring | Ongoing |
Construction Impacts
King County is working to limit the impacts of construction. During construction, access to the east end of Southeast 114th Street will be restricted. This area is commonly used to access the "Blue Hole" swimming area. Limited foot traffic will be able to reach the river at this location.
The project site at the downstream end of the levee will be inaccessible during construction. However, construction will not block passage on the water. A memorial bench will be temporarily moved during construction and replaced in the same location. A large sequoia tree is too close to the damaged area to make the repair without its removal. The sequoia will be replaced by nine new trees near the levee and willow saplings on the newly regraded bank. The willows will enhance habitat for fish and wildlife.
King County will update this webpage as the project is designed and permitted. Signs and flyers will be posted near the project site in advance of construction and updates will be shared with area residents as construction is planned and completed. Please sign up for project notifications by email or text if you are interested in receiving updates.
For more information about the Mason Thorson Ells Leve Rehabilitation Project, please contact Dan Brubaker, King County River and Floodplain Management Section, Water and Land Resources Division, Department of Natural Resources and Parks.