King County Flood Management Plan
Creating a flood resilient future
We're preparing an environmental impact statement (EIS) as part of our process to update the flood plan. We're accepting comments on the scope of the EIS from Monday, Nov. 7 through Friday, Dec. 9 at 5 p.m. Scroll down to learn more and share your comments with us.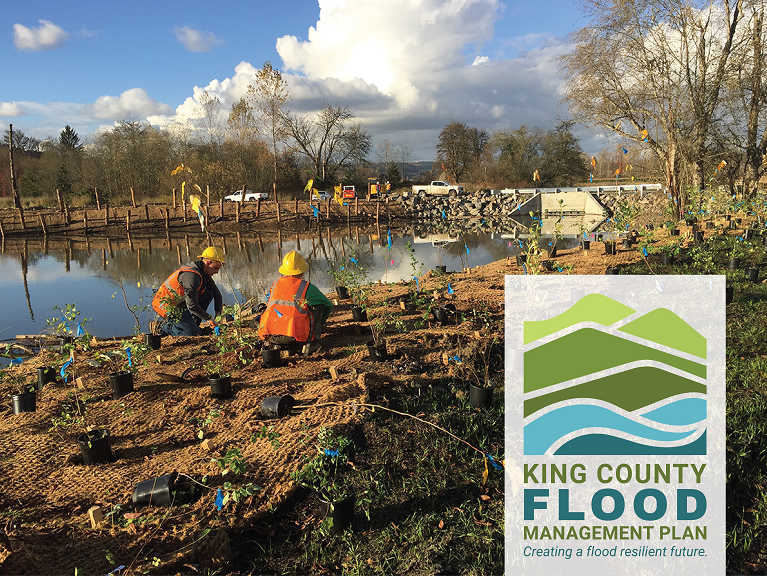 A crew adds native plants to improve habitat near the Tolt Pipeline Protection Project in 2018.
Over the next two years King County will update its Flood Management Plan. The flood plan is our guide for managing flood risks along our rivers, creeks, and coastlines. How does reducing flood risks impact rivers that support wildlife and farming? Ensure safe roads and reliable infrastructure? How do we address the likelihood of bigger floods with the resources available? What matters most to you?
To create the next plan, King County is learning about the interests and goals of our communities most vulnerable to flooding. What we learn will help us equitably shape our programs, policies, and infrastructure for years to come.
Join us, let's create a plan for a flood resilient future in King County.
About this project
As our most common natural disaster, flooding is part of life in King County. The flood plan will set floodplain management policy for unincorporated King County and could inform flood management actions by cities, the King County Flood Control District, and other floodplain partners.
Why is King County updating the flood plan?
Rivers and streams are alive—they change over time. King County last updated the flood plan in 2013. Since then, nearly 10 seasons of flooding have changed how our rivers look and function. Our population has grown, and we've added more homes and businesses to the landscape. How we develop land, manage waste, accommodate traffic, grow food, and recreate affects our rivers and coastal areas.
How will this flood plan be different?
To create a flood resilient future, the plan must represent the diverse perspectives of our community. Due to a variety of factors, including unjust historical practices, some communities are more at risk of flooding. Some people are less able to prepare or recover from flood disasters. Understanding what all communities need and their proposed solutions is King County's priority.
King County will work directly with communities on the flood plan in 2022 and 2023. Engagement opportunities will include community partnerships, advisory groups, and online surveys. King County will also hold open houses, and virtual meetings. Staff are available to join community-hosted meetings and share information.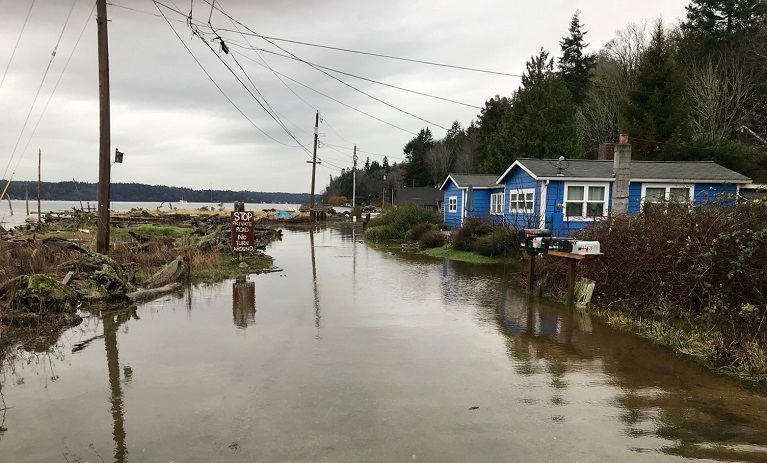 Past flood plans have focused on flooding along King County's major rivers. This flood plan will capture a broader range of flood hazards that affect people. It will include coastal flood hazards and sea level rise, small stream flooding, and urban flooding.
The updated flood plan will look for ways that we can reduce flood risks while delivering other community benefits. How can our projects and programs support farming or create new jobs? Improve salmon habitat and provide recreational areas? What's most important to you and what does your community need?
Get involved
Sign up to receive flood plan updates and learn about ways to be involved in creating a flood resilient future. You can unsubscribe at any time.
Sign up for flood plan updates
Our core values in developing the flood plan are:
To stay community-centered.
Embrace transparency and openness.
Work with local partners.
Strive for full accessibility.
Have communities that are often left out of flood risk reduction conversations at the table.
Our roadmap for community engagement
Before kicking-off the flood plan we conducted research, an online survey, and worked with a consultant to hear from community groups on how we can improve our approach to gathering public input. Thanks to the valuable insights people shared, we've created a Community Engagement Implementation Plan. This will be our roadmap for providing better community engagement opportunities as we develop the flood plan together.
Flood hazard workshops
King County's past flood plans focused on addressing mainstem river flooding. Our updated plan will also explore urban, coastal, and tributary flooding. We welcome your attendance at workshops covering these topics in early 2023. We'll have two workshops on each topic. At the workshops we'll discuss the hazards and associated problems and identify potential risk reduction approaches. King County staff and our consultant team will lead the workshops. Here are the dates for the workshops in January and February:
Tributary flooding session #1 – Jan. 12, 2-4 p.m.
Coastal flooding session #1 – Jan. 18, 2-4 p.m.
Urban flooding session #1 – Feb. 1, 10 a.m. to noon
Tributary flooding session #2 – Feb. 8, 10 a.m. to noon
Coastal flooding session #2 – Feb. 15, 10 a.m. to noon
Urban flooding session #2 – Feb. 27, 1-3 p.m.
Meetings will be held virtually using Zoom. If you are interested in attending, please contact Spencer Easton at seaston@esassoc.com for the virtual meeting information.
Partner Planning Committee
The Partner Planning Committee is one avenue for gathering public input on the flood plan. Learn more about the purpose of the committee and upcoming committee meetings on the Partner Planning Committee webpage.
Flood plan kick-off meetings
King County hosted two online meetings to kick off the next Flood Management Plan. At each meeting, guest speakers talked about local flood hazards and discussed how managing flooding can benefit wildlife and farming, roads, open space, and more. We invite you to watch a video of one of the kick-off meetings:
Couldn't make it to the kick-off meetings? King County is interested in coming to you. We welcome your suggestions for community events that we can attend to talk about the flood plan. Please contact Chrys Bertolotto at 206-263-2677 or cbertolotto@kingcounty.gov to discuss options.
State Environmental Policy Act process - environmental impact statement
An important part of our process to update the Flood Management Plan is to prepare an environmental impact statement (EIS). An EIS is a document that describes proposed actions and how they would affect the environment and people. Through the EIS process, King County will identify and analyze potential impacts of the plan on threatened or endangered species, water quality, historical and cultural resources, transportation, and more.
Currently, the County focuses on flooding and erosion hazards on major rivers and streams like Snoqualmie and Cedar Rivers and Issaquah Creek. The updated flood plan proposes to address flooding more broadly on smaller streams and tributaries, lakes, and coastal areas. The EIS will evaluate whether this broader scope will have better outcomes for King County communities.
Learn more about the EIS by reading our fact sheet (1.11 MB, PDF).
Opportunities to comment on the EIS
Our EIS will have two formal opportunities for public input:
During the "scoping" period, which is when the public, tribal governments, and local, state, and federal agencies are invited to comment on the range of alternatives, areas of impact, and possible mitigation measures that should be evaluated within the EIS. Comment period will take place Nov. 7 through Dec. 9, 2022, at 5 p.m.
During the draft EIS review period, which is when comments are requested on the merits of the alternatives and the adequacy of environmental analysis. Tentative timing is fall 2023.
Comment during the scoping period
King County proposes to explore the impacts of two scenarios, called "alternatives," in the EIS. As a standard part of the EIS process, a "no action alternative" is considered. The analysis will consider the impacts of not adopting the new flood plan and continuing to use the 2006 and 2013 flood plans to guide floodplain management policy and activities.
Past flood plans
The most recent flood plan was completed in 2006 and adopted by King County Council in January 2007. The flood plan was last updated in 2013 and adopted by King County Council with the passage of Ordinance No. 2013-0419.
Download the 2006 flood plan and 2013 flood plan update. These reports are provided in Adobe Acrobat .pdf format.
Printed copies of the 2006 flood plan and 2013 flood plan update are available at the following King County libraries:
Auburn Library
Bellevue Regional Library
Bothell Regional Library
Carnation Library
Duvall Library
Fairwood Library
Fall City Library
Issaquah Library
Kent Library
Maple Valley Library
Muckleshoot Library
North Bend Library
Redmond Regional Library
Skykomish Library
Snoqualmie Library
Tukwila Library