Equity and social justice -- being a good neighbor to all communities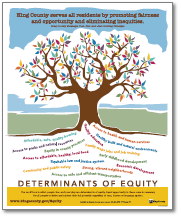 In 2010, Executive Dow Constantine signed an ordinance that requires the principles of equity and social justice to be included in the King County Strategic Plan as well as all comprehensive planning and policy decisions.
The equity & social justice ordinance establishes definitions and identifies the specific approaches necessary to implement and achieve the "fair and just" principle that is embedded as a core element of the goals, objectives and strategies of the countywide strategic plan.
Specifically, we focused on how we site, build, operate, and maintain our facilities in relation to the neighborhood demographics in our service area.
We first began with a mapping/location analysis back in 2010 in which we sought to determine whether there was a link between the location of our facilities and the race and income level of nearby community members. We did so to evaluate whether minority and low income communities were disproportionately burdened by hosting a wastewater treatment facility.
That research helped inform the first study in 2013, which included an equity assessment to review the existing design, mitigation measures, and maintenance at our wastewater treatment facilities and to identify if there are inequities in our practices between neighborhoods across the service area.
In the second study in 2014, we assessed all our of pump stations in residential neighborhoods (30 in total) to evaluate the consistency of our service standards, determine whether there was any service quality variability in relation to the income of nearby residents, and correct any discrepancies identified. Our goal was to have all of the facilities in this group to meet or surpass an overall consistent standard system-wide.
Ultimately, these studies did not show a link between neighborhood demographics and facility location, design and service quality. In addition this work proves valuable in improving our business practices so we continue to ensure all facilities will be sited, designed, built, operated, and maintained to a consistently high standard, for all ratepayers in our service area.
Learn more
Contact us
For more information about WTD equity and social justice, please contact Robert Tovar.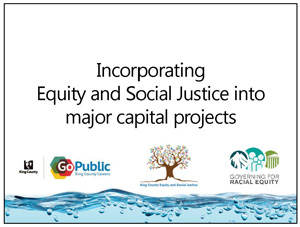 King County's Wastewater Treatment Division operates 24/7 to ensure all of our ratepayers have access to healthy, viable waterways, regardless of their income, race, or neighborhood.
While our recent study findings don't link our facilities to unfair burdens in low income and minority communities, the studies highlighted the importance of viewing our everyday work, future system planning, and expansion through an equity lens.
Building and siting facilities that are good neighbors to their host communities, giving people meaningful opportunity for public participation, and ongoing efforts at inclusiveness in how we communicate news and information will remain a priority as we upgrade and improve our infrastructure to support King County's increasingly growing and diverse population.