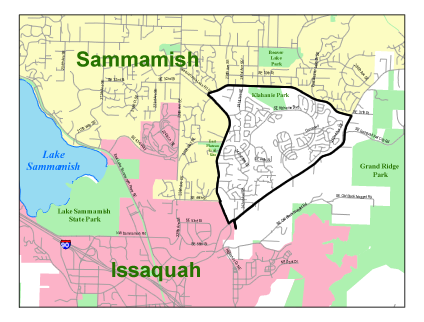 January 1, 2016 - Klahanie was annexed in to the City of Sammamish.
Klahanie is part of Issaquah's potential annexation area (PAA).
Klahanie, located on the southeast corner of the City of Sammamish and the northeast corner of the City of Issaquah, is a fully built-out community of 11,000 residents.
Additional information and links:
Status updates
The City of Issaquah put the question of annexation to the voters of Klahanie and South Cove/Greenwood Point in the November 2005 general election. The voters in both areas overwhelmingly approved annexation, but the companion measure to assume the city's outstanding indebtedness did not fare as well. While the debt assumption measure passed in South Cove/Greenwood Point, the measure did not receive the required 60% approval in Klahanie. As a result, the City of Issaquah will extend its borders to serve South Cove/Greenwood Point within the next year, while the future local governance of Klahanie is uncertain. While some Klahanie residents remain interested in joining Issaquah, there are others that would like to pursue annexation to the City of Sammamish. Both cities continue to study and review their annexation options.