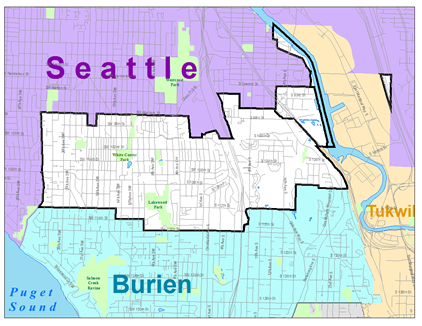 The cities of Burien, SeaTac, Seattle and Tukwila have designated all or a portion of the North Highline unincorporated area as a potential annexation area in their respective comprehensive plans. As a result, the Growth Management Planning Council (GMPC) has adopted a motion to show North Highline as an overlap or contested interim potential annexation area in the Countywide Planning Policies (CPPs). The CPPs have been amended to identify a process to resolve Potential Annexation Area (PAA) overlaps in the North Highline PAA.
North Highline is an unincorporated urban area of approximately 20,000 bordered by Seattle, Burien, SeaTac and Tukwila. It includes the White Center and Boulevard Park communities, as well as, several other smaller neighborhoods.
Status updates
King County's goal is to develop the most robust governance transfer options possible for the large urban PAA's, like North Highline, that remain unincorporated.
As of April 2013, King County is involved in discussions with Burien, Seattle, Tukwila and Fire District 11 regarding the future of the remaining unincorporated portions of North Highline.
As with all the large islands of urban unincorporated area that remain in King County, it takes time to develop thoughtful land use and governance transfer solutions – but we remain committed to resolving the annexation of North Highline before the state sales tax credit to encourage annexations expires in 2015.
Additional information and links: