Cable Communications
Helping cable TV subscribers who live in unincorporated King County
The Office of Cable Communications (OCC) can assist you in resolving complaints and answering questions regarding your cable service.
Please contact us if you have an issue that you are unable to resolve directly with your cable company.
Technology Access and Adoption Study
At King County, we believe increasing access to technology and the internet improves the quality of life.
We want to better understand how residents use technology, as well as barriers preventing residents from getting connected. The findings from the study will help us better serve our community and ensure all residents have the resources to succeed.
This is the first time King County has conducted a comprehensive survey about access to technology and the internet. Results from the survey will be available during the First Quarter 2020.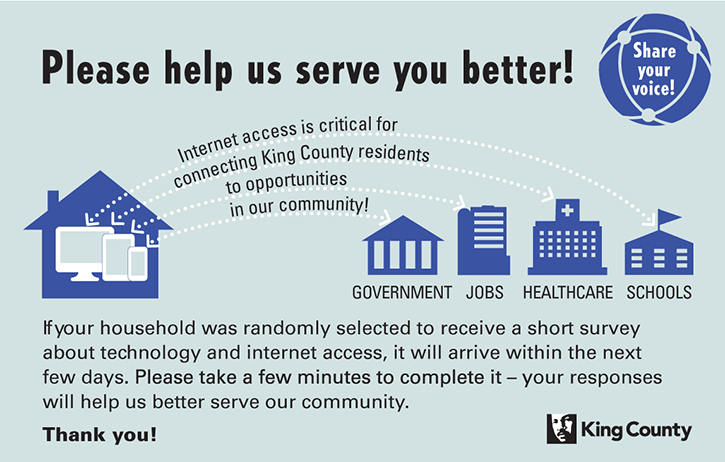 Franchise agreements
King County has signed franchise agreements with two cable companies—Comcast and WAVE Broadband—regarding their use of Rights-of-Way to provide cable television service to customers in unincorporated areas.
The agreement with Comcast was signed in July 2014 and will expire in October 2024. The agreement with WAVE Broadband was signed in September 2013 and will expire in September 2023.
Contact Cable Communications