2020 Broadband Access Study
Survey Results
Connecting Our County
Tanya Hannah
Chief Information Officer, King County
Director of King County Information Technology
"One thing the ongoing coronavirus pandemic has made abundantly clear is the absolute need for digital access. Digital equity is, put simply, a fundamental social-justice goal, as access to information and technology is essential to fully participating and prospering in our local community. Vast numbers of county residents need fast, reliable internet connections for remote work, while our students need it to continue with online learning and others require it for telehealth, to name just a few critical areas.
With that backdrop, I am pleased to release the Department of Information Technology study on broadband access within King County. This report grows out of a request by the King County Council, which recognizes the importance of reliable broadband service in residents' lives. The study highlights that sustaining vibrant communities must include removing barriers that prevent low-income and rural residents in our community from full and equitable digital engagement. The study can support efforts to leverage community partners to expand capacity and literacy; increase infrastructure options with public/private partners; and promote digital inclusion of communities.
I can't wait to use this valuable roadmap to support our residents and regional partners in receiving full access to the critical digital tools needed for full participation in work, school and our communities."
Finding Your Broadband Access in Your District
At King County, we believe in equal access to technology to improve the quality of everyone's life. Our goal is to enable expansion of broadband access to more residents in our County. With our Broadband Access Study, we can now take a closer look at how residents use technology along with the pain points that prevent residents from getting connected. Learn more.
Taking a Closer Look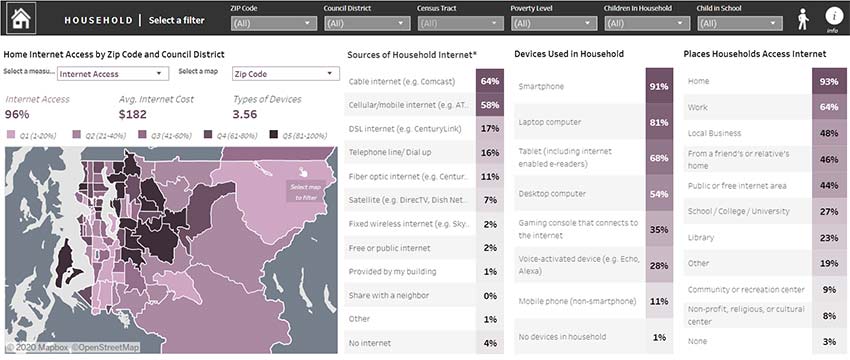 You can access data visualizations for results from the Broadband Access questionnaire survey of King County residents.
The raw data is used for the dashboard data visualizations. Download this data to facilitate your own analysis.
Raw Data - 19MB MS Excel File
Field Definitions - 119KB MS Excel File
Frequently Asked Questions
Contact Cable Communications