Jobs - King County jail, juvenile detention, community corrections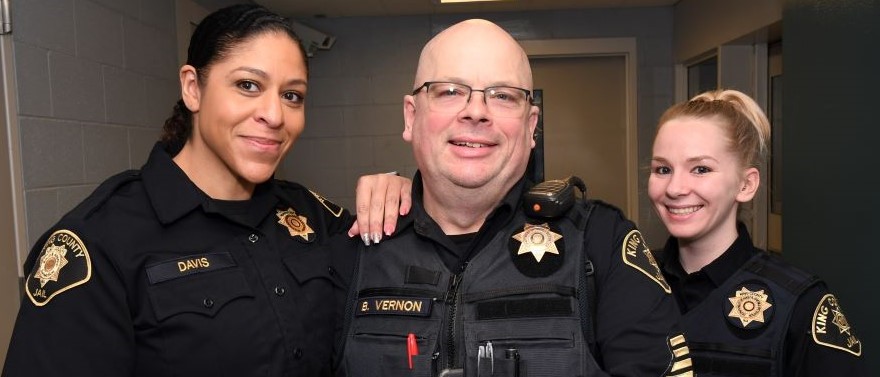 Join our team: Jobs with the DAJD
Hiring now!
$7,500 to $15,000
in sign-on bonuses.
See Corrections Officer and Juvenile Detention Officer job listings.
King County's Department of Adult & Juvenile Detention offers rewarding careers with competitive pay, strong benefits and outstanding co-workers.
Open jobs at the DAJD
Use the vertical scroll bar below to see available DAJD job listings. Click on a title to learn more about the position and the green Apply button to become a job candidate. A listing for all King County jobs is online at www.governmentjobs.com/careers/kingcounty
For clinical positions at Jail Health including nursing, physician and psychiatrist roles, visit the Public Health Jobs page.
Corrections Supervisor Randy Green discusses his work with youth
---
Officer LaVance Davis shares his experiences as a Corrections Officer
---
'We're one big team': Officer Michelle Helpenstell on why DAJD is a good fit for veterans
A career, not just a job
Excellent wages
Superior benefits
Contribution to community safety
Diverse workforce
Working with people - every day is different
Advancement opportunities
Held to a higher standard to uphold public trust
Teamwork approach
Excellent training
Military vets encouraged to apply!
King County recognizes the value of your military service. As the Pacific Northwest's largest jail system, we are proud to employ a great number of those who serve our nation as they transition to civilian life. We provide the following benefits related to military deployment or training/drills:
Up to 21-days of paid military leave per military fiscal year (Oct. 1 to Sept. 30).
Differential pay while on active duty.
Medical, dental, vision, and basic life insurance for a military leave beyond 30-calendar days.
Vacation and sick leave accruals while on military leave.
Military reservists are permitted to miss work to participate in weekend drills.
More info:
Additional details about the hiring process
Desirable candidates will display integrity, good judgment, common sense, people skills, good communication, and follow proper procedure, even when unpopular. To be considered, the individual must have a history of ethical behavior. Learn more below:
About the working environment