Vashon Metro Community Van—same service, new partner
Summary
Starting August 19, the Vashon Community Van will transition the role of Community Transportation Coordinator from the Vashon Chamber of Commerce to the Department of Local Services.
Story
Starting Monday, Aug. 19, King County Local Services will partner with Metro to deliver Community Van services on Vashon Island.
Community Van provides residents with 24/7, reservation-based transportation for group trips. Metro provides the vans, and volunteer drivers are managed by a local Community Transportation Coordinator. Metro has partnered with the Vashon Chamber of Commerce to provide this service since the two-year pilot project began in 2017.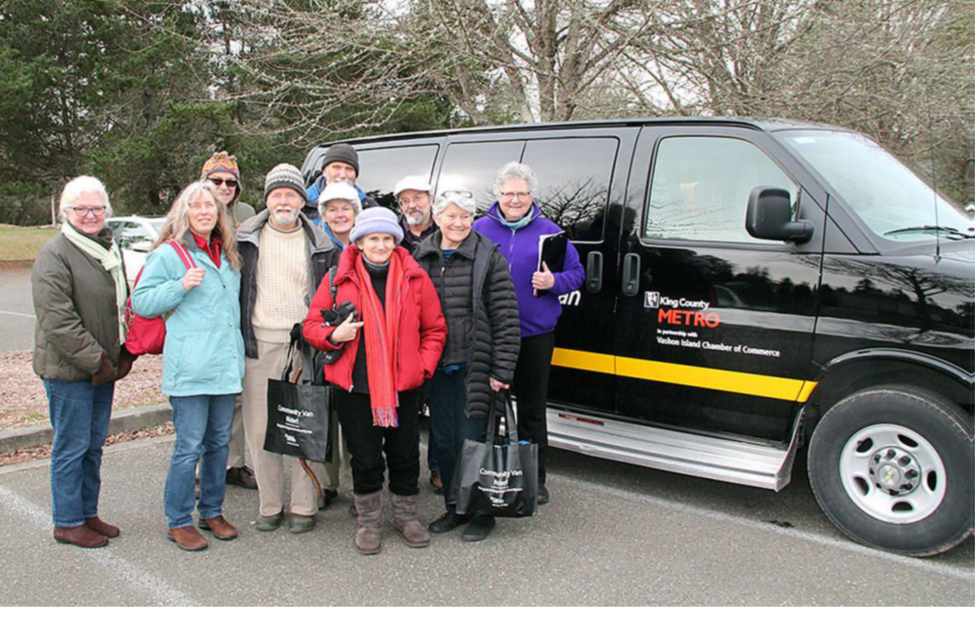 Above: Vashon Island residents taking Community Van to Seattle for a public hearing in February 2018. Photo courtesy of Metro Community Connections.
King County's Local Services department, formed in January, will now provide the Community Transportation Coordinator for the Vashon Community Van. Riders and drivers will experience no interruption in service, and can request trips by calling either 206-773-7003 or 206-625-4500.
"We appreciate the way Metro has responded to the community's needs for island transportation, from adding Sunday bus service to the Strawberry Festival Water Taxi and the Community Van program," said Jim Marsh, Executive Director of the Vashon Chamber of Commerce. "We were glad to partner with Metro to bring the Community Van program to Vashon."
RELEVANT LINKS