WINTER TIPS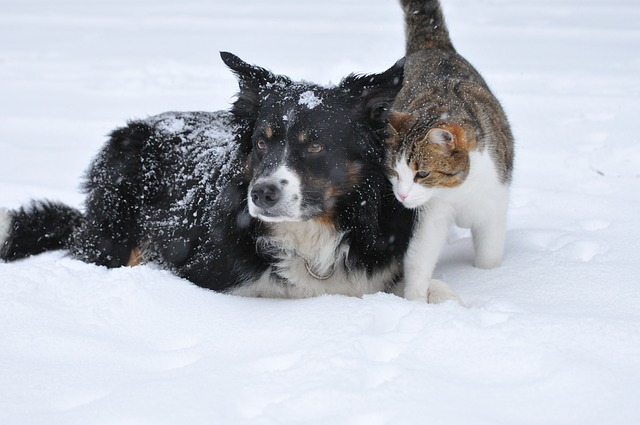 Just like people, your pets have to be prepared for winter weather too. It's important to make sure your pet is kept safe and warm no matter the conditions outside.
As always, the best thing to do is to keep your pet inside when it's cold and wet outside. Of course, dogs do have to go out to do their "business," but limit the time they spend in the elements.
Provide outdoor animals with a warm, dry, secure shelter out of the wind, such as a garage, barn, or insulated pet house.
Always have fresh, clean, unfrozen water available for pets. Your dog or cat is just as likely to get dehydrated in the winter as in the summer. Snow is not a satisfactory substitute for water.
Ice melting chemicals can injure your pet's paws. They could also get sick from licking the residue off their feet or the floor. After pets have been outside, clean their paws well, making sure to check between the pads for clumps of ice, snow, or ice melting chemicals. Wipe up any melted snow or ice you may have tracked indoors.
Gently towel or blow-dry your dog or cat if they get wet.
Cats and kittens often nap on warm car engines and hoods. Knock on the hood or honk the car horn before starting the engine.
Pets like the smell and taste of antifreeze, but even a small amount can kill them. Clean up spills at once, and store antifreeze securely away from pets.
Groom your pets. Pets need well-groomed coats to keep them properly insulated.
If you do suspect your pet has become sick or injured, contact your veterinarian immediately. If you see an animal in distress due to the cold, call 9-1-1 or your area's animal control agency. To reach RASKC, call 206-296-7387 (PETS).

RASKC is pleased to share these behavior and wellness resources from nationally recognized animal welfare organizations. You can also find more resources on our Pet Assistance Program page.
WILDLIFE
RASKC values our animal welfare partner, PAWS, with who we work closely on animal issues related to adoption, rehabilitation and wildlife.
We have partnered with GoodPup to help ensure adoptable dogs have behavioral resources in the future. GoodPup's app matches you with a certified trainer who will help you through potty training, teaching your dog the essential cues, and avoiding any bad dog behaviors (like biting and chewing). You'll meet with your trainer once a week. And between sessions, you can text chat with their entire team whenever a question comes up. To get started, click here to receive a FREE session, and 20% Off for Life.

Stay up to date!
For wellness, holiday, and weather-related pet safety tips, visit our blog Tails from RASKC.
Pet Information Line
206-296-7387 (PETS)