ORCA Youth Card
Be independent. Go to cool places. Ride the bus!
Riding Metro gives you the freedom to go places and have fun with your friends. Ride together to the mall, meet up at a beach, or just hang out with your friends without bothering mom and dad for a ride. Pay with cash or get an ORCA youth card. With an ORCA youth card, you can transfer easily to any participating transit agency*, you don't need to carry cash, and you save a lot of money because you get credit for what you already paid for your ride!
Get ready to ride in 3 easy steps
Ride!
Visit our How to Ride Metro page for more details. Find your stop and away you go!
How to get an ORCA youth card
An ORCA youth card is available to youth age 6-18. It allows you to pay only $1.50 for your trip including transferring to other services (within a 2 hour window) like Link light rail, Sound Transit buses, Community Transit and other participating agencies*.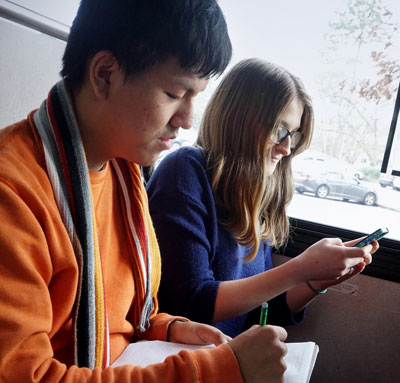 Reduced Fare Portal
Available through the Reduced Fare Portal for a limited time. Applicants must be 13 or older. If you're under 13, you'll need a parent or other adult to complete the form for you. Apply now
By mail
Print this form, fill it out and mail it to customer service along with a copy of your id showing proof of age** and $5.00 for the cost of the card. You might want to add additional money or a pass to your card too. If you need help figuring out the fares just give us a call at 206-553-3000.
In person
Print this form, fill it out and bring it to customer service along with your id showing proof of age** and $5.00 for the cost of the card. Not sure how to fill it out? Just bring your ID in to customer service and we'll walk you through it. Your mom and dad can also get a card for you with your id.
*Participating agencies: ORCA is accepted on King County Metro, King County Water Taxi, Community Transit, Everett Transit, Kitsap Transit, Pierce Transit, Seattle Center Monorail, Seattle Streetcar, Sound Transit and Washington State Ferries. If you are planning to ride on a Washington State ferry, a standard transit pass does not cover the cost of ferry travel. Additional fees apply.
**Proof of age: To prove age for six to 18 years of age, use one of the following: 1) Student ID; 2) State ID or driver's license; 3) Birth certificate.
Another option
Waived ORCA Youth card fee for ORCA LIFT cardholders
ORCA LIFT cardholders can also request an ORCA Youth Card with the $5 card fee waived for their children ages 6 through 18.
If you are over 18 but not working or have a limited income, you might be eligible for the same great deal with an ORCA LIFT card; great for students if your school doesn't have a pass program.
Connect with Metro
#youthcard