North Link Connections Mobility Project
We want to hear
from you!
Metro has an opportunity to significantly improve the current transit network in north King County with the opening of the three new Link light rail stations in north Seattle.
Project goals:
Improve mobility for historically un(der)served populations.
Equitably inform and engage with current and potential customers traveling in the project area.
Deliver integrated service that responds to Link expansion and meets customer needs.
Areas: North Seattle, U-District, Shoreline, Bothell, Kenmore and Lake Forest Park
Potentially affected routes: 26, 31, 32, 40, 41, 44, 45, 48, 49, 62, 63, 64, 65, 67, 70, 71, 73, 74, 75, 76, 77, 78, 301, 303, 304, 308, 309, 312, 316, 345, 346, 347, 348, 355, 372, 373, ST 522
New routes: 16, 23, 25, 61, 68, 79, 302
Metro is launching the second phase of community engagement for this project
Thank you for sharing your thoughts with us during Phase I. Your feedback helped us better understand the mobility needs and priorities in north King County.
From what we heard, some themes became visible including:
Improving east-west connections to move people across town.
Ensuring that travel time is either faster or stays the same.
Improving connections to hospitals and medical facilities like Seattle Children's Hospital, the University of Washington Medical Center, and facilities on First Hill.
Improving connection to new markets like South Lake Union.
Ensuring that transfers bus to bus and bus to Link light rail are easy to understand and easy to do.
Current network
Below is a map of how the buses in this project currently move in and out of the area.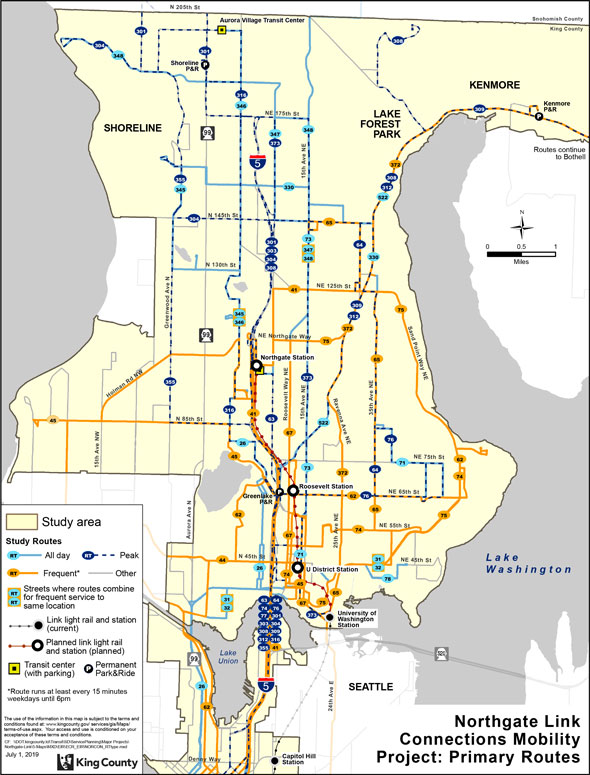 Proposed idea change by route
Please let us know what you think
We are collecting feedback and talking with community until the end of this phase in March 2020. Please share your thoughts by taking this survey and sharing your comments with us here.
Sound Transit will open three new Link light rail stations in north Seattle in 2021, extending from the University of Washington – Husky Stadium to Northgate Transit Center. Metro is planning for a September 2021 opening.
Metro will be making changes to bus routes and introducing new mobility options in north Seattle and north King County in order to connect people to light rail, respond to changing transportation needs, and improve mobility and access for historically underserved populations. The project will be done in coordination with Sound Transit, the Seattle Department of Transportation (SDOT), Community Transit, Washington Department of Transportation (WAshDOT) and many other partners.
An updated network of mobility options will be implemented at Metro's service change in September 2021.
North Link Mobility Board
Metro recruited community members who live, work, or travel in the area to help Metro develop bus service changes and new mobility options as well as advise on ways Metro can engage with the community.
Metro aimed to convene a Mobility Board that equitably represents groups of people who have historically been left out of decision-making conversations related to transit and who are disproportionately affected by these decisions. These groups of people include black, indigenous, and people of color; people with physical and/or cognitive disabilities; people with low- to no-income; people experiencing homelessness or housing insecurity; immigrants and/or refugees; and people with linguistic diversity. Metro recognizes that people can have multiple identities from which they experience both privilege and oppression, and we encouraged those who identify as coming from multiple un(der)served groups to apply to serve on the North Link Connections Mobility Board. The result is a diverse group representing the above communities mentioned.
In addition to Metro's individual engagement with project partners and stakeholders, Metro convened a team to serve as a concept review board of external stakeholders. The board includes representatives from jurisdictions and major institutions in the project area, leaders of community-based organizations, and representatives from partner transit agencies. The Partner Review Board's primary role will be to review and provide comment on service concepts developed by the Mobility Board and Metro and provide guidance on both engagement opportunities and implementation plans that will ultimately result in successful adoption and implementation of the service change. The Partner Review Board will provide an opportunity to engage with other project partners and take a more holistic view of the project as the sum of these many parts.
The Mobility Board helps Metro draft changes to service and new options, and Metro shares this concept network with the public, stakeholders, and local jurisdictions to gather feedback.

The Mobility Board helps Metro refine the network concept into a final proposal for changes to service and new options. Metro shares this final proposal with the community to resolve remaining tradeoffs (e.g. community prefers Route XX to come every 10 minutes rather than operate past 10 p.m.) in order to finalize a recommendation to the King County Executive.

Metro finalizes the recommendation and drafts service change legislation for King County Executive and King County Council consideration and adoption.
Where is Metro in the community now?
Please check this calendar regularly for event updates. Is there an upcoming public event or community gathering in north King County that you think Metro should attend in relation to this project? Would you like Metro to provide a briefing to your organization? Please email your event recommendation or request for a briefing to Shelby Cramer or call 206-263-1109.
Sign up to receive updates