King County hosts June 1 open house to discuss Skykomish transportation options
Summary
King County hosts June 1 open house to discuss Skykomish transportation options
Story
Residents can comment on alternatives to ease transportation void left by closure of Miller River Bridge
The King County Road Services Division will host an open house Saturday, June 1 in Skykomish to update residents on efforts to obtain federal funding to lessen the impacts of the Miller River Bridge closure. The bridge and a 100-foot section of the Old Cascade Highway were damaged when the river changed course during a major flood in 2011.
The open house will be held:
Saturday, June 1
10-11:30 a.m.
Maloney Store
104 Railroad Avenue W
Skykomish
The magnitude of damage to the road and bridge means replacement of these structures will be very costly. In the coming weeks, the county will continue to work with emergency management officials to determine what can be done to address the transportation void left by the closure of the road and bridge.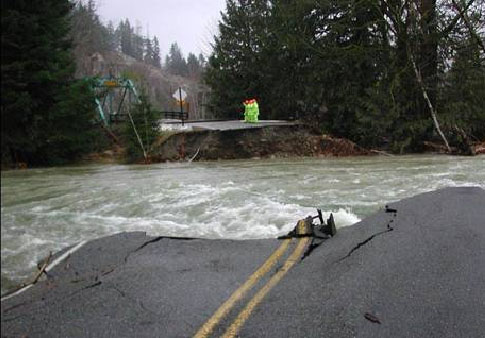 Following the devastating flood, the county analyzed several options for a new bridge and reconstructed road. After careful review, engineers concluded the restoration of Old Cascade Highway and construction of a new bridge would cost more than $17 million. Given declining transportation revenues, King County does not have resources for an investment of this size and magnitude.
Old Cascade Highway is classified as a minor collector and carries around 100 vehicles per day
During the open house, residents will have an opportunity to learn more about proposed alternative projects and ask questions. The Roads Division plans to submit an application for federal funding in June.
For more information about the open house contact Alice Ann Wetzel, Community Relations Planner at 206-684-1154 or email her at aliceann.wetzel@kingcounty.gov