King County honors the heroic sacrifice of firefighter Luther Dean Bonner with a new airport fire station that captures his story
Summary
King County elected officials honored the memory of Luther Dean Bonner – a Seattle firefighter whose courageous sacrifice in 1943 has been largely forgotten– and named the new rescue and fire station at King County International Airport in his memory.
Story
At a ceremony today at King County International Airport, the new rescue and fire station was named in honor of a fallen firefighter whose act of bravery has been overlooked for decades.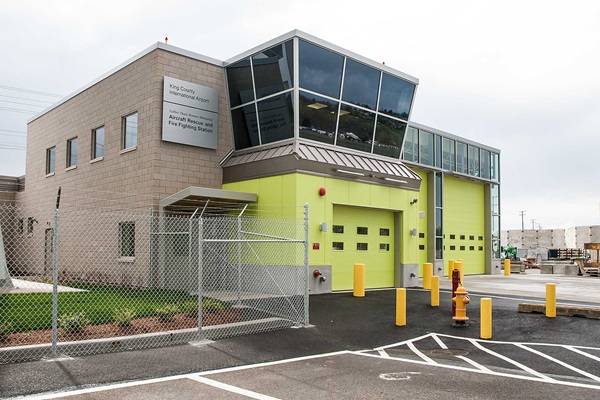 In 1943, Luther Dean Bonner, a 23-year-old Seattle firefighter, died while attempting to rescue passengers and warehouse workers after a plane crashed into a plant near the airfield. Thirty-two people were killed, making it the largest loss of life from a fire in Seattle's history, yet Bonner's sacrifice was never properly recognized.
King County elected officials invited members of his family to the new Luther Dean Bonner Aircraft Rescue & Firefighting Station, which has a large mural that tells the dramatic story of his sacrifice.
"The story of Luther Dean Bonner's brave act of heroism should be, and will be, told for generations," said King County Executive Dow Constantine. "Like Bonner, the firefighters who serve in our new fire station stand ready to protect the people of King County, running toward danger so that others can be safe."
King County Council Chair Joe McDermott introduced legislation last year to name the new facility after Bonner.
"I am proud to honor the memory of Luther Dean Bonner by naming the Aircraft Rescue and Firefighting Facility for him. This dedication and celebration should also serve as a reminder and recognition of all first responders who put their lives on the line, for all of us, each and every day."
The rescue and fire station will be staffed and operated by the King County Sheriff's Office.

"For generations we have worked alongside our brothers and sisters in firefighting to protect our community," said Sheriff John Urquhart. "It truly is a pleasure to honor our firefighter brother who courageously gave his life in the line of duty. The memory of Luther Dean Bonner will forever live on."
Built to meet the needs of one of the busiest non-hub airports in the nation
The new station was built to modern firefighting standards to serve one of the busiest non-hub airports in the United States. Its strategic location next to Boeing Field's control tower means firefighters can respond immediately to emergencies on and near the runway.
The $5 million construction cost of the 8,500-square-foot facility was almost entirely paid for by the Federal Aviation Administration. It is more energy efficient, and is built to withstand a major earthquake.
The new station is located in the exact location and essentially the same footprint as the previous facility. Even after several remodels, the previous station had become too old and leaky, and its engine bay wasn't even large enough to hold the airport's two firetrucks.
The heroic story of Luther Dean Bonner's sacrifice
At the height of World War II, as Boeing was testing a plane that would eventually become the B-29 Bomber, a prototype crashed into a meatpacking plant adjacent to Boeing Field.
On Feb. 18, 1943, Bonner and other members of Seattle Fire's Truck No. 1 were called to the Frye and Company Meat Packing Plant. Bonner died while battling the fire in the warehouse. The plane's pilot and 10 members of the flight crew, along with 20 workers inside the plant, were also killed.
Bonner never received a proper tribute for a fallen firefighter. His cemetery plot never bore his name, and his story has been largely forgotten for the past 70 years.
It wasn't until 2009 – after retired Seattle Firefighter and historian Dave Peery researched Bonner's story – that he received a proper tribute.
The County Council voted to name the station in his honor after hearing testimony from Sheriff Urquhart, Seattle Firefighter Union President Kenny Stuart, Peery and King County Sheriff's Department Sgt. Lon Shook.
Honoring other influential firefighters
King County elected officials also recognized the contributions of three other local firefighters who have passed away after influential careers that improved public safety.
Firefighter Jason Karwhite

served his community as a firefighter for over 18 years. As a Tukwila Firefighter, Karwhite recognized the need for close coordination with surrounding jurisdictions, including the King County International Airport. He humbly initiated a partnership with the Airport that has led to increased resiliency and strong working relationships within our community. He passed away in 2014.

Capt. Erve Monroe

dedicated his life to serving his community as a firefighter and was a relentless advocate for those he served alongside. He will be remembered for his dedication to strengthening the partnership between the Boeing Fire Department and first responders in neighboring communities, including King County International Airport. He passed away in 2016.

Sgt. Lloyd Black

began with the King County Airport Police Department and went on to spend the next 30 years serving the King County International Airport until his retirement in July 2004. He was instrumental in upgrading the airport's fire apparatus. Likewise, he was responsible for keeping the outdated equipment running well beyond their expected life spans. He was also involved in the planning of the original station, as well as subsequent remodels. He passed away in 2004.
Relevant links