Ride transit to the trails with Trailhead Direct
Summary
King County agencies are launching Trailhead Direct, a transit van service that seeks to ease vehicle congestion, reduce safety hazards and expand access to beloved hiking destinations in the Issaquah Alps and along I-90.
Story
A new effort to reduce traffic congestion at some of the Cascade foothills' most-popular trailheads is being launched by King County Parks and King County Metro.
"Trailhead Direct" – a pilot project sponsored by Metro's Community Connections Program and King County Parks, is a seasonal service that operates on weekends and holidays through mid-October 2017, with shuttles leaving the Issaquah Transit Center every 30 minutes between 7 a.m. and 6 p.m., and dropping off and picking up hikers at three trailheads on Squak and Tiger mountains.
The 19-seat transit vans are free to ride on Aug. 5-6. For the remainder of the season, riders will be charged regular Metro off-peak fares.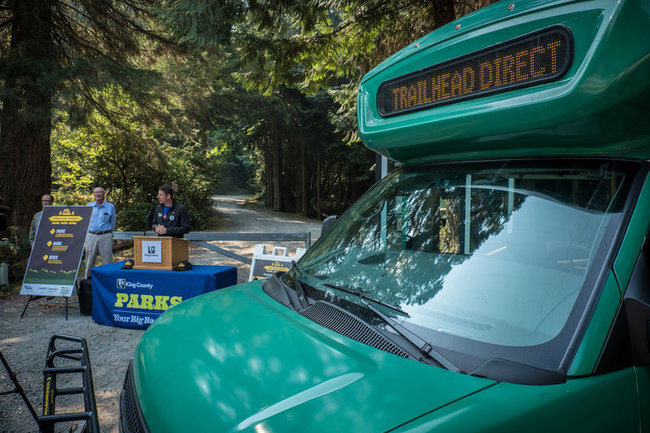 Trailhead Direct transit vans depart the Issaquah Transit Center and make stops at the Margaret's Way trailhead at Cougar-Squak Corridor Park, the Poo Poo Point trailhead on West Tiger Mountain, then the East Sunset Way Trailhead in Issaquah. The service continues its route with a stop at the Issaquah Highlands park-and-ride before returning to the Issaquah Transit Center to begin another loop.
The pilot project was developed in response to growing vehicle congestion at several popular trailheads, where illegally parked vehicles along busy roads created significant traffic hazards and safety concerns.
"Parks and trails are important contributors to our high quality of life, and the Trailhead Direct program will help provide access to some of the most beautiful places King County has to offer with convenient, reliable and affordable service," said Christie True, director of the King County Department of Natural Resources and Parks. "With Trailhead Direct, everyone has access to more than 5,000 acres of protected lands with 150 miles of hiking trails – even if they don't own a car."
"Trailhead Direct is a new transportation option for hikers who want to leave their cars behind," said Harold Taniguchi, director of the King County Department of Transportation. "Metro is excited about this partnership with King County Parks to provide Metro customers with access to public lands while helping to reduce trailhead and road congestion. That's increasingly important as our region grows and these trails become even more popular to those exploring what makes the Northwest special."
"In the Mountains to Sound Greenway we have long worked to create a 'Wilderness on the Metro,' and the Trailhead Direct pilot program represents a powerful step toward making our great outdoors more accessible by public transportation," said Jon Hoekstra, Mountains to Sound Greenway Trust Executive Director. "One by one we're pulling down the barriers to getting people outside to enjoy the trails and natural spaces that our region is renowned for. Congratulations to King County Parks and King County Metro on launching this pilot program."
King County agencies had help from a number of partners in developing the pilot program, including Mountains to Sound Greenway, Washington Trails Association, The Mountaineers, Issaquah Alps Trails Club, Outdoors For All Foundation, TOTAGO (Turn Off The App - Go Outside!), REI, The Wilderness Society, Washington Department of Natural Resources, City of Issaquah, Si View Metropolitan Park District and the U.S. Forest Service.
For more information about Trailhead Direct visit kingcounty.gov/trailheaddirect.