Equity and social justice
In late 2016, we produced our first Strategic Plan for Equity and Social Justice (ESJ), co-created with employees and community partners. The Plan is a blueprint for action and change that guides our pro-equity policy direction, our decision-making, planning, operations and services, and our workplace practices in order to advance equity and social justice within County government and in partnership with communities.
This six-year strategic plan was co-created by county employees and community partners, and represents a critical opportunity for King County to do ground-breaking work:
Applying a theory of change that fundamentally shifts the county away from policies and practices that react to problems and crises toward investments that address root causes.
Balancing a bold vision with actionable and measureable objectives.
Allowing for innovation and adaptability across our government to help us be more dynamic and culturally responsive.
Our strategies as One King County are to invest upstream and where needs are greatest—in employees and community partnerships. We will do this with accountable and transparent leadership.
Pro-Equity Policy Agenda:
King County is expanding access to opportunity in eight areas—child and youth development; jobs and economic development; environment and climate; health and human services; housing; information and technology; transportation and mobility; and the justice system.
Goal Areas:
We are advancing pro-equity policies, systems and practices in six areas of governance—leadership; operations and services; plans, policies and budgets; workforce and workplace; community partnerships; communications and education; and facility and system improvements.
Regional Equity Collaborative:
Given the need for increased coordination and cross-sector solutions that match the scale of inequities we face, King County is committed to regional collaboration on equity issues for greater and more sustained change.
Examples of our work: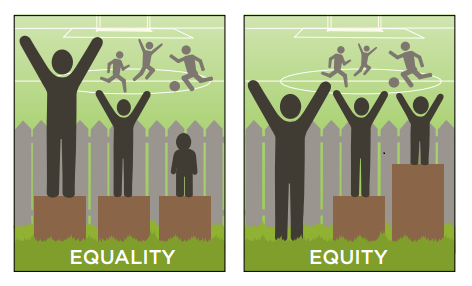 What is equity? King County's 2010 "fair and just" ordinance defines equity as all people having full and equal access to opportunities.

Equity and social justice resources:

Executive's vision for equity and social justice: