Judge David Keenan - Superior Court
How to contact a King County Superior Court judge and get ready for your trial or motion.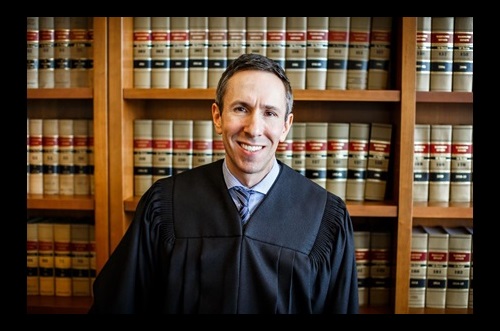 Courtroom Number: W-1060
Bailiff: Beatrice Marquez
Department: 26
Assignment: Criminal
Biography
Judge David Keenan has served as a trial judge at the King County Superior Court since 2017. Judge Keenan brings a unique perspective to the bench, having lived in King County for more than 50 years where he was raised by his mother in poverty and was a juvenile defendant in the very court he now serves in. In addition to serving as a Superior Court Judge, Judge Keenan has served as a judge pro tempore in King County District Court and Federal Way Municipal Court.
Judge Keenan has served in and around the law for nearly 30 years in many capacities. Since entering judicial service, Judge Keenan has served as a Racial Justice Institute Fellow at the Shriver Center on Poverty Law, on the Washington Supreme Court's Access to Justice Board, on the Board of Choose 180, as a member of the National Association of Women Judges Ensuring Racial Equity Committee, as a member of the King County Bar Association's Rev. Dr. Martin Luther King, Jr. Luncheon Committee, as a member of the Washington State Bar Association's Equity and Disparity Workgroup, as a member of the Task Force on Race and the Criminal Justice System, and as the American Bar Association Judicial Division's Liaison to the Council for Diversity in the Educational Pipeline. Judge Keenan has also served the Superior Court Judges Association in many capacities, including as a member of the Racial Justice Task Force, the Unrepresented Litigants Workgroup, and the Ethics Committee, and as a judicial peer counselor.
Prior to judicial service, Judge Keenan worked in complex civil litigation at a global law firm, where he litigated matters in federal and state courts. In 2015, Judge Keenan took leave from his firm to temporarily serve as a Special Deputy Prosecutor in the Felony Trial Unit at the King County Prosecuting Attorney's Office. As an attorney, Judge Keenan frequently represented members of marginalized communities free of charge in civil rights cases around the country.
In addition to pro bono service, Judge Keenan previously served on several boards in the non-profit, legal, and public sectors. Until taking the bench, Judge Keenan served as Board President at Northwest Justice Project, which is Washington's largest provider of civil legal aid to low-income people, as well as on the Board of TeamChild, which provides civil legal aid to vulnerable youth. In addition, Judge Keenan served on the Washington Supreme Court's Civil Legal Needs Study Committee in 2015 and 2016.
As President of the Federal Bar Association for the Western District of Washington in 2016, Judge Keenan served on merit selection committees for the reappointment of a United Sates Magistrate Judge and for the appointment of a United States Bankruptcy Judge. Judge Keenan also previously served on the Washington State Bar Association's Judicial Recommendation Committee and the Bar's Character and Fitness Board.
In 2014, while still a practicing attorney, Judge Keenan was appointed by the Mayor of Seattle to the Seattle Community Police Commission, where Judge Keenan helped represent the community in police accountability reform under a consent decree between the City of Seattle and the Department of Justice.
Before becoming an attorney, Judge Keenan spent nearly 15 years as a federal law enforcement agent. Judge Keenan worked full-time as a Senior Special Agent with the federal government, investigating crimes such as money laundering and human trafficking, while attending law school at night, graduating summa cum laude from Seattle University School of Law at age 38, where he was named the Dean's Medalist.
Judge Keenan grew up in Seattle, where he spent much of his youth living on welfare and a public housing subsidy. Judge Keenan was actually charged as a juvenile defendant in King County Superior Court and was repeatedly suspended from the Seattle Public Schools before dropping out of high school and eventually earning his GED.
Requests
Settlement Conferences
Judge Keenan is available to facilitate settlement conferences for civil cases. Please email his court for more information.
Speaking Engagements
Are you a student, lawyer, or member of our community who would like to visit the court? Would you like Judge Keenan to speak with your students, your organization, or your group? Judge Keenan is happy to meet with you. Please email his court for more information.
Weddings
Judge Keenan is available for weddings any day of the week and can be reached directly for scheduling at david.keenan@kingcounty.gov or (206) 477-1486.