Judge Matt Lapin - Superior Court
How to contact a King County Superior Court judge and get ready for your trial or motion.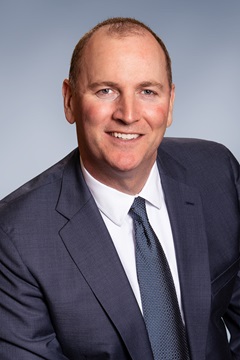 Courtroom Number: E-847
Bailiff: Maria Diga
Department: 8
Assignment: Civil and Criminal
Biography
Judge Matthew Lapin was appointed by Governor Jay Inslee on April 11, 2022, to replace Retired Judge John Ruhl. At the time of his appointment, he was serving as a Court Commissioner. He was sworn in on May 4, 2022.
Before joining the bench, Judge Lapin practiced as Criminal Defense Attorney with the Law Office of Robert Flennaugh. From 2007 to 2009, he served as a Director of Business Development at Lighthouse Document Technologies, a Seattle E-Discovery company. He began his legal career in 1995 with the King County Prosecutor's Office working for the late Norm Maleng. He was a Senior Deputy Prosecuting Attorney and during his tenure, prosecuted cases including sexual assault, domestic violence and homicides. He also served in several supervisory roles including the mainstream trial unit.
Judge Lapin grew up in Washington, D.C. He earned his bachelor's degree at Princeton University in 1990. He earned his law degree at the University of Miami Law School in 1995.
He is the proud father of his daughter, Anna.
Requests
Appearing via Zoom
Court attire is required.
Log in at least 10 minutes before the meeting time.
Watch Virtual Meeting Tips.
Ensure your witnesses and clients have also watched Virtual Meeting Tips.
Practice with each witness/client prior to joining the hearing/trial.
Email
Do not email Judge Lapin directly. All correspondence must go through the Bailiff.
Civil case information, forms, and documents
Rules to review before calling the court
Ex Parte Procedures - King County Local Rule 40.1
Procedures for motions without oral argument - King County Local Rule 7
Revision & Reconsideration - King County Local Rule 7
Trial Continuance - King County Local Rule 40
Summary Judgments - Civil Rule 56 Motion to Dismiss - Civil Rule 12
Motion to Set Aside Judgment - Civil Rule 60
Court transcripts
Judge Lapin operates a digitally recorded courtroom. If prior to the hearing or trial you know that you want a copy of the CD, notify the Courtroom Clerk, who will be able to provide the information needed at the end of the hearing. If at some time following the hearing or trial, you determine you need a copy of the CD, it may be obtained directly from the Clerk's Office copy center. The direct phone number is 206-296-7848.
If you need to have a transcript created, a list of court approved transcriptionists is available from the Clerk's Office.
Requesting or setting oral argument for motions
If you are setting a dispositive motion, you must e-mail the Bailiff and schedule time on Judge Lapin's calendar. If you do not have access to e-mail, please call the above number. Dispositive motions are generally set on Friday mornings (at 9 am, 10 am, or 11 am). Please call or email to schedule your hearing at least 2 months prior to the hearing date you would like to request. Other types of motions that are granted oral argument are motions for restraining orders, preliminary injunctions, revisions, and class certification hearings.
Most other motions do not require oral argument under the Civil Rules or Local Rules (see links above). If a party would like to request oral argument, the motion should be noted pursuant to the applicable court rules, simply noting in the upper right hand corner "Oral Argument Requested." After Judge Lapin has reviewed all briefing (moving papers, responses, and replies), if the Court determines oral argument is appropriate, the Bailiff will contact the parties and set a mutually acceptable time for oral argument to be presented.
No deliveries directly to the courtroom
Unless arrangements have been made directly with Judge Lapin's Bailiff, no deliveries are to be made directly to the courtroom. All deliveries should be made to the Judges' Mailroom. (See mailing address above.)
Pre-trial requirements
All trial memoranda, proposed jury instructions, and other trial submissions are due no later than 7 court days prior to trial. Please contact the Court Clerk by email to obtain information on pre-numbering exhibits. All submissions should be made to Judge Lapin via e-working copies. In civil cases, Judge Lapin requires all parties and counsel to work together to complete the Witness Examination Time Form, and that form must be submitted together with other pre-trial memoranda 14 court days prior to trial. If the parties intend to use depositions in trial, designations and objections shall be marked according to these guidelines. Deposition designations and objections shall be provided to the Court at least 7 days prior to trial, along with other pre-trial materials.
Prior to appearing for hearings or trial
Before appearing in Judge Lapin's Court, please review the Rules for Conduct (70KB) in his courtroom.
Hearing or trial information
General trial schedule is Monday through Thursday between 9:00am to 4:00pm. Judge Lapin hears civil non-dispositive motions and sentence modification hearings at 8:30 am. and 4 pm. All 8:30 am hearings will conclude no later than 8:55 am, and all 4 pm hearings will conclude no later than 4:25 pm.
If you have a civil case which is assigned to Judge Lapin, there is the possibility that your case could be assigned to another judge at the time of trial. The assignment will generally take place on Thursday afternoon prior to trial. You are still required to comply with all court rules regarding pre-trial submissions and deadlines. All papers submitted will be provided to the trial judge at the time of assignment by Judge Lapin's Bailiff. To determine what judge you have been assigned to for trial, please check the Civil Standby Calendar. It will be updated on Thursday afternoon prior to trial and is continuously updated (as needed) at other times.
Judge Lapin requires all counsel and parties to be prepared at the end of each day to disclose all witnesses that party is intending to call the following day in trial.
Weddings
Courthouse weddings by appointment only. Available Monday through Thursday at 4:30 pm and 5:00 pm. Please contact his Bailiff, Maria Diga at lapin.court@kingcounty.gov for availability and fees.