Judge Sean P. O'Donnell - Superior Court
How to contact a King County Superior Court judge and get ready for your trial or motion.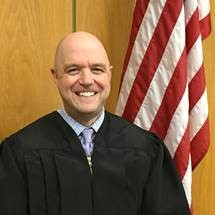 Courtroom Number: W-331
Bailiff: Ann Brockenbrough
Department: 29
Assignment: Chief Judge, Unified Family Court
Biography
Sean P. O'Donnell is chief judge for King County's Unified Family Court. Since joining the be331nch in 2013, Judge O'Donnell has been on the court's family law, civil and criminal dockets, including 2 years as the Court's Chief Criminal Judge. He has presided over numerous 'all remote' jury trials and helped lead efforts to implement the Court's virtual jury selection and virtual trial procedures and training during the pandemic. Judge O'Donnell helped draft rules currently pending before Washington's Supreme Court that would authorize trial courts to continue remote trials and jury selection after pandemic emergency orders expire. In 2022, he helped establish King County's Protection Order Court pilot project, which is in its first year of operation. He is keenly interested in A.I. and the possibilities and challenges it presents to the legal profession.
Judge O'Donnell graduated from Georgetown University and Seattle University School of Law. He served as a senior deputy prosecutor for 12 years and handled the state's first human trafficking case and first commercial sexual abuse of a minor case. While a prosecutor, Judge O'Donnell was a member of the Green River Task Force, which oversaw the investigation and prosecution of serial murderer Gary L. Ridgway (the "Green River Killer"). He has trained lawyers and police nationally and internationally on how to prosecute human trafficking cases.
Judge O'Donnell has led 3 statewide branch task forces in Washington: to improve courthouse security, to reform Washington's pre-trial release practices, and to increase state funding for court interpreters. He is the legislative co-chair for the Superior Court Judges' Association.
Judge O'Donnell is the former President of the Superior Court Judges' Association, a statewide organization representing 192 trial court judicial officers across Washington.
Judge O'Donnell is the 2004 co-recipient of the "Outstanding Lawyer of the Year" from the King County Bar Association and the 2018 recipient of "Judge of the Year" from the American Board of Trial Advocates (Puget Sound Chapter). Judge O'Donnell is member of the Rainier Scholars Resource Council.
He lives with his wife and their 2 teenage children in Seattle.
Requests
Hearing requests
Refer to LFLR5 for where to schedule motions in family law proceedings. The Family Law Instructions page has other helpful information.
The following motions may be noted without oral argument. Please note your motion according to local rules—you do not need a hearing date/time from the bailiff:
Motions to Consolidate
Motions to Release Weapons
Motions to Seal
Motions to Retain Jurisdiction
GR33 ADA Accommodations
Motions without an assigned Judge (UCCJEA, DVPO, Revision, etc.)
Motions for final orders with $0 transfer payment. (Agreement of the parties alone is not sufficient justification to allow a deviation; refer to RCW 26.19.075).
The following motions are heard with oral argument. Please contact the bailiff for a hearing date and time before noting your motion:
When noting a motion before Chief UFC, please use the Notice of Court Date form (486KB) from the Superior Court clerk's form page.
Weddings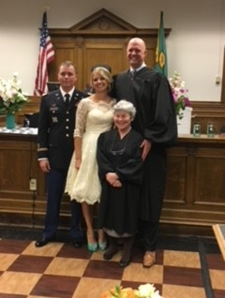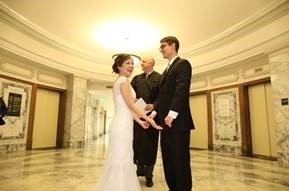 Judge O'Donnell performs weddings Monday through Friday at 4:30 pm, on weekends, and outside of court. Please email the bailiff for availability and fee information.
奥唐纳法官在周一至周五下午 4:30、周末和庭外举行婚礼。请向法警发送电子邮件,了解可提供的时间和费用信息。
El juez O'Donnell celebra bodas de lunes a viernes a las 16:30, los fines de semana y fuera del juzgado. Por favor, envíe un correo electrónico al alguacil para obtener información sobre disponibilidad y tarifas.
오도넬 판사는 월요일부터 금요일까지 오후 4시 30분, 주말 및 법원 밖에서 결혼식을 진행합니다. 이용 가능 여부 및 수수료 정보는 집행관에게 이메일로 문의하세요.